Chickpea Fattoush Nourish Bowl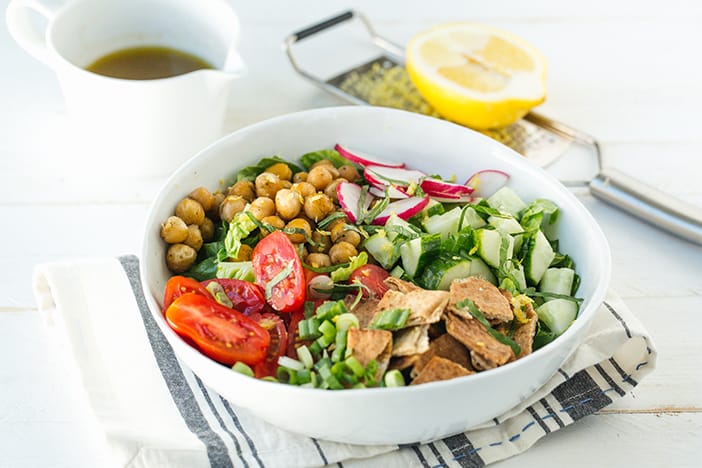 2 pita breads
1 garlic clove
1 large lemon (1/4 cup lemon juice plus zest)
1½ teaspoons kosher salt, divided
¼ teaspoon cinnamon
¼ teaspoon allspice
11/2 teaspoons maple or honey
Fresh ground black pepper
½ cup plus 2 tablespoons olive oil
2 15-ounce cans chickpeas
2 teaspoons cumin
3 romaine hearts
1 small English cucumber
2 scallions (green onions)
3 to 4 radishes
1 handful fresh mint leaves
Sumac (optional)
Preheat the oven to 350F. Brush the pita breads on both sides with olive oil and sprinkle with a few pinches kosher salt. Slice each pita into 8 wedges with a pizza cutter. Place the wedges on a baking sheet and bake until golden and crispy, about 20 minutes. Allow to cool slightly, then break the wedges into irregular pieces.
Meanwhile, mince the garlic, then use the flat blade of your knife to scrape it into a paste. In a medium bowl whisk together the garlic, ¼ cup lemon juice, ½ teaspoon kosher salt, cinnamon, allspice, maple, and several grinds of black pepper. Gradually whisk in ½ cup olive oil a tablespoon or two at a time until a creamy emulsion forms.
Drain and rinse the chickpeas, shaking off as much water as possible. In a large skillet, heat 2 tablespoons olive oil over medium heat. Add the chickpeas, cumin, 1 teaspoon kosher salt, and several grinds of black pepper and sauté for 5 minutes until the chickpeas are golden and warmed through.
Chop the romaine hearts. Slice the tomatoes in half. Dice the cucumber. Thinly slice the scallions and radishes; slice the radishes in half. Thinly slice the mint leaves. To serve, place the greens in the bowl and arrange the vegetables, chickpeas, and toasted pita on top, adding a few pinches of kosher salt to the tomatoes and cucumber. Drizzle with dressing and garnish with mint and lemon zest (or sumac, if desired).
Recipe by
Village Farms
at https://villagefarmsfresh.com/recipes/fattoush-nourish-bowl