Recipes and photography by Susan Spungen
Celebrations look a little different this year, so we may not be attending or hosting any big New Year's Eve bashes (what a relief, right?), but that's no reason not to be festive with your immediate others, or hey, even if it's just you and Zoom! Maybe New Year's Eve can just be drinks and nibbles, and just skip the dinner part. Haven't we all been eating too much lately anyway? Here are two recipes that I created in partnership with Village Farms to help you celebrate what can only be a better New Year. Both of these recipes are fresh and festive, with a slightly tropical air. Though you may not be jumping on a plane to hit your favorite beach resort, these two recipes will transport you, full of the fresh flavors of cucumbers and tomatoes, with a special guest appearance by the gorgeous dragon fruit (also known as pitaya) in the form of its bright fuchsia-colored powder, which tastes as good as it looks.
The first recipe is for a Cucumber Dragon Fruit Margarita, which is simple to mix up, but dazzling! This is a fruity drink that is not too sweet, but you can add more simple syrup to taste if you want. To make simple syrup, just combine equal parts sugar and water and boil until the sugar dissolves. Let cool before using. You can keep it in a glass jar in the fridge for a long time so you can always be ready to conjure up a refreshing drink. Luscious Seedless Long English® cucumber is used both in a puree that is shaken up in the cocktail, and as an edible garnish (and stirrer!). Using the cucumber puree in the drink lightens it up a little so it isn't quite as strong as a normal margarita, and gives it a fresh, vegetal flavor too.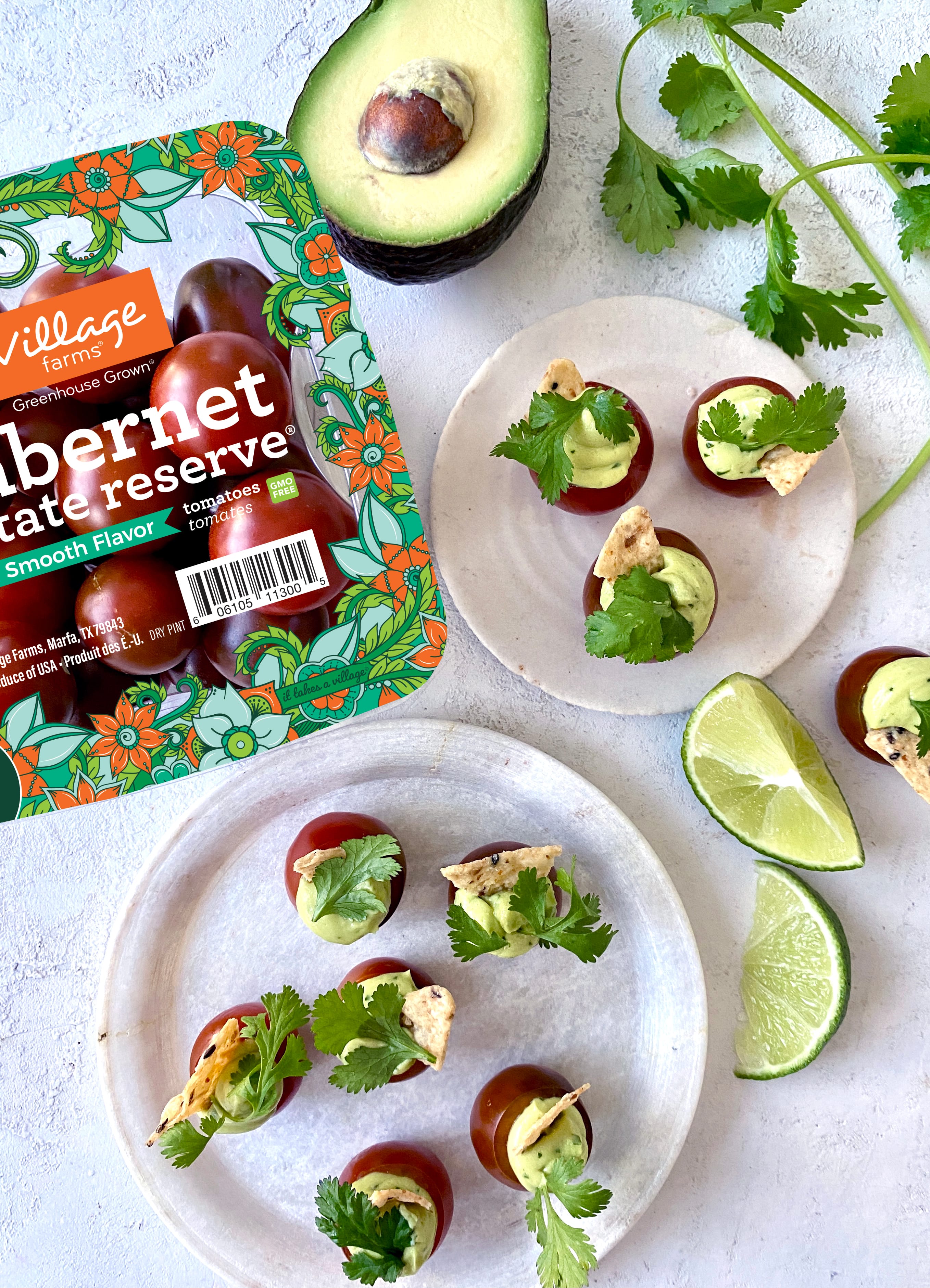 The second recipe is a perfect little bite for any time of year, since Cabernet Estate Reserve® tomatoes are responsibly greenhouse grown. They are juicy and flavorful all year round, so enjoy some summery freshness for a change of pace, and as a tasty companion for your Dragon Fruit Margarita. I love their brown-ish color and sweet ripe flavor. A very tasty and as-spicy-as-you-want-it-to-be avocado crema is piped inside for a fresh but creamy bite. A little mini tortilla chip tucked into the filling provides a tasty crunch. Serve the rest of the chips on the side!
---
Recipes and blog were created exclusively for Village Farms by Susan Spungen
Print