A Village Farms Texas Christmas: Hot Damn, Tamales! with Cabernet Estate Reserve Tomato™ Chili Sauce
---
I moved to Texas right out of college, and it's been home now for over 30 years. And as they say:
"I'm not from Texas, but I got here as fast as I could." 
That old adage is totally true. It's just a place you want to be. The people, the places, the pride and the food are all what make this state the place I'm proud to call home.
There are lots and lots of food traditions in this great state, but none is stronger and more deeply rooted than making and eating tamales at Christmas. The word tamale actually means "wrapped food" and is found in recorded Mayan history as far back as 5000 BC. The process of making tamales is an all day affair, and that would be the reason why I don't actually make them.
Now I love to cook and I'll cook all day long, but why do all that work when there are so many places all over Texas that put every ounce of love they have into making their own tamales? So I buy mine from my friends at Hot Damn, Tamales! in Fort Worth, Texas and I make these little packets of deliciousness my own with the sauces I create to go with them. Hot Damn, Tamales! will ship anywhere in the U.S., so you have no excuse not to get some.
This first recipe is a tomato chili sauce I created that combines Village Farms Cabernet Estate Reserve™ tomatoes with mild, fragrant, dried Pasilla chiles. When rehydrated and popped in the Ninja Blender or food processor with some onion, beef stock and spices, you get a tomatoey, smoky sauce that's just perfect with most any kind of tamale you can buy. I chose the Angus Beef Tamales from Hot Damn, Tamales!, but any flavor would be perfect with this delicious tomato sauce. I chose the Cabernet Estate Reserve™ tomatoes for their beautiful deep cabernet color and rich flavor. When combined with the chiles, they're just amazing.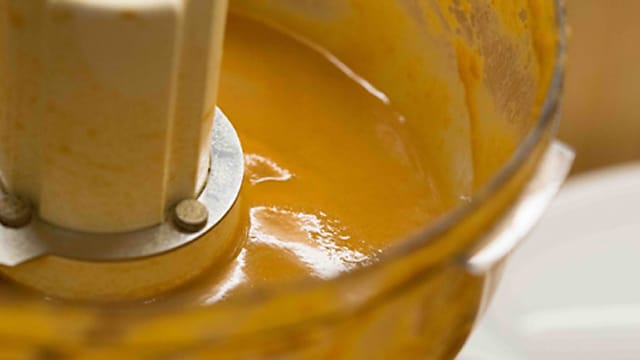 If you've never used Pasilla chiles, never fear. Just slice them open, remove the stems and seeds and soak in beef or chicken stock for 30 minutes. Pop them into the Ninja Blender with the other ingredients, and voila — the perfect sauce to go with your holiday tamales.
Recipe – Hot Damn, Tamales! with Cabernet Estate Reserve™ Tomato Chili Sauce
Recipe and photography by Nancy Farrar
Print