by Diana Pittet
The winter holidays are the season of festive abundance. When else in the year are there so many parties and gatherings? And so much food? At some point it will be your turn to host. That is not the time to unwrap a few nondescript cheeses and plonk them down on a plate with a bunch of tired grapes. That is the time to impress.
A colorful, abundant cheeseboard does the trick nicely. The star of your culinary show is the visually appetizing spread of pert and tasty Village Farms tomatoes, paired with cheeses and an assortment of complementary nibbles. For both drama and ease, everything can be artfully arranged on a single platter. Not only does this look stunning but it makes after-party clean-up that much easier.
Bite-size tomatoes are perfect for creating a memorable cheeseboard. Coming in cheery hues, like miniature Christmas tree ornaments, Village Farms' selections embody the merriment of the season. The tomatoes are also practical, playing double duty in a way that grapes can't: being both sweet and savory. Cheeses favor these contrasting flavor profiles, and so will your guests, who will happily gather around your personalized cheeseboard. Pro tip: make sure everything is out of the fridge at least an hour before guests arrive, as the full flavors come through at room temperature.
Here are some tips for creating such a platter:
Tomatoes
As the host, you are charged with the task of having a little something for everyone. As such, put out a variety of Village Farms tomatoes for maximum visual appeal and sensory delight. Sure winners include golden-hued Lorabella Blossom™; pop-them-in-your-mouth Lip Smackn' Grapes®; and the very distinguished Cabernet Estate Reserve®. Whichever varieties you select, make sure they can be eaten in one bite. You may have to halve or quarter the bigger ones, such as the Sinfully Sweet Campari®. If the tomatoes are rolling off your platter, you can put them into small bowls, separated or together.
Cheeses
Just as you have an assortment of tomatoes, do the same for your cheeses, but offer no more than three or four types–perhaps a soft, hard, and a blue cheese. There is the risk of too many options. To facilitate ease for your guests and to prevent your carefully assembled cheese platter from looking like a crime scene at the end of the night, pre-cut your cheeses into individual servings of thin triangles or batons. Soft cheeses can be kept whole since they cut with ease. A sumptuous triple cream would be delightful with the citrusy Lorabella Blossom™ and a glass of bubbly. The sweet Lip Smackn' Grapes®, or the Cherry No. 9 Fall in Love Again®, can be balanced by the saline pop of a blue cheese, washed down with a malty beer.  Savory meets savory in the pairing of the Cabernet Estate Reserve® and a firm sheep's milk cheese such as Manchego, sipped with a spicy red wine. The Heavenly Villagio Marzano® tomatoes would be delicious in this combination as well.
Crackers
Fan out crackers on your platter, next to the cheeses. Simple ones are preferable, so that they don't compete with the other flavors, but flatbreads with dried fruits and nuts look special and can work nicely.  Slices of baguettes do too. For those who prefer not to eat carbohydrates, make "crackers" with sliced rounds of Luscious Seedless Long English® cucumbers–a perfect vehicle for transporting a hunk of cheese to mouth.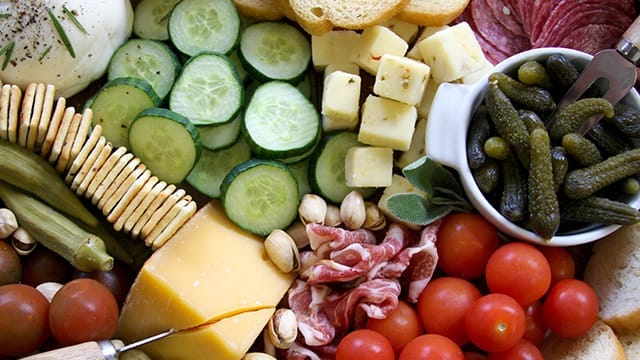 Nibbles
Fill in the empty spaces of your cheeseboard with a variety of nibbles and condiments. Here are some suggestions.
Nuts
Rich marcona almonds or festively green pistachios crunch pleasurably with the zippy tomatoes.
Olives
A medley of green and black olives are in keeping with the assortment of tomatoes. Or be a little different and put out a jar of tapenade which can serve as a savory dip for the tomatoes and cucumbers or a spread for the crackers.
Pickled Vegetables
As a counterpoint to all the richness, include some pickled vegetables–cornichons, malt vinegar onions, okra, whatever you fancy. They help refresh the palate and keep guests coming back for more.
Spice Blend or Salt
Dukkah is a dry spice blend from Egypt that can be poured into a small bowl on the platter, along with one of olive oil. Show your guests how to quickly dip a tomato into the oil and then into the dukkah for a memborale bite. To keep it simple, you can have a bowl of flakey sea salt instead.
Whatever you put out and however you creatively arrange it on your platter, it will be a holiday knockout.
Diana Pittet is an adjunct professor at New York University in the Department of Food Studies and Nutrition. She also works as a cheesemonger at the Cheese Cave in Red Bank, N.J., and owns Night Owl Hospitality, a cocktail-catering company in Asbury Park, N.J.
Print