As seen on The Produce News
Village Farms Fresh is getting ready for the annual New York Produce Show & Conference to be held at the Jacob Javits Convention Center in New Your City, on November 30 through December 2nd. Village Farms Fresh will be exhibiting in booth 326 on Thursday, December 1st, 2022 where we invite you to Bite into Fresh with us.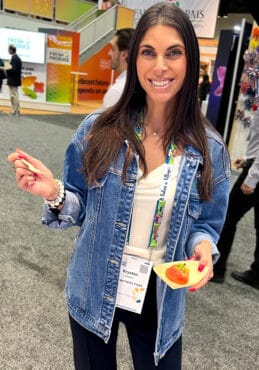 There is so much to be thankful for with the holiday season upon us and Village Farms Fresh enjoys being in NY this time of year, according to Krysten DeGiglio, Regional Sales Manager for the company. "The annual NYPS brings with it a certain warmth to the city as it reminds us of the quickly approaching holiday season! I always enjoy seeing our customers at this show and having the opportunity to thank them in person for their support over the past year. The show size allows for =intimate face-to-face discussions regarding preparations for the year to come and our continued partnerships. We are excited to showcase our favorite Village Farms Fresh varieties again this year. I look forward to seeing everyone in New York!"
Stackable Snackables®, a winner of the prestigious Joe Nucci award for Product Innovation at the NY Produce Show in years past is alive and well and more vibrant than ever for the company.  Pint-sized specialty snacking tomatoes in a plethora of shapes, and sizes, and full of flavor varietals to intrigue every taste. Packaged in stackable trays top-sealed with fun and colorful graphics that create an impactful and captivating tomato display. Village Farms Fresh pint-sized specialty tomato program was dubbed its name "Stackable Snackables®" because units can be stacked up to 5 high.
"Stack'em High and Watch'em Fly", an old adage that still holds true, and is infused with new meaning allowing more units to be stacked in the same-sized shelf space compared to clamshells. "The benefit of more units within the same shelf space means potential for increased dollar sales, reducing out of stock which equates to less lost sales, and improved labor efficiency without the constant cost of restocking labor. All a win for Village Farms Fresh retailer partners, making Stackable Snackables® an impactful proactive solution to the specialty tomato category and retail merchandizing", Bret Wiley, SVP of Sales mentioned.
Village Farms' exclusive unique specialty tomato varieties are the real winner. Unlike any other available on the market today they all offer real flavor and versatility cultivated by the sustainable greenhouse growing methods that ensure a consistent quality and safe product, grown with the highest food safety standards. Sensational Sara®, Heavenly Villagio Marzano®, Sinfully Sweet Campari®, Cabernet Estate Reserve®, Cherry no.9®, Maverick Mix®, Lip Smack'n Grape®, Savory Roma®, Delectable TOV®, and Juicy Beefsteak® tomatoes, Luscious Seedless Long English® and Scrumptious Mini® cucumbers, Sweet Bells® sweet bell peppers are all Village Farms' unique varieties.
The company has traveled the world over exploring the secret gardens of niche artisan farms for distinctive varietals that deliver not only on flavor but other important factors such as shelf life and versatility. Village Farms Fresh delivers on this value proposition consistently day-in-day-out, year after year. "One of the greatest testaments to this is when the end users, such as our loyal to the brand consumers and chefs share with us the love of our products", Helen L. Aquino, Director of Brand Marketing & Communication told us.
Good for the Earth® and Garden Fresh Flavor® are not only taglines for the company but the value proposition Village Farms Fresh lives by. And this is why it takes a Village® to deliver on this promise.
See you in New York, please visit us at booth 326.
Print