by Lunches + Littles
For as far back as I can remember, I have been interested in creating colorful, delicious food. When I was a little younger I had a bit more time to play around with intricate recipes, but today my life looks a little different. When it comes to meal times these days, there are two things that are important to me: 1. Ensuring that what I am cooking is healthy for my family and 2. Ensuring that time to the table is kept to a minimum.
I want all of my children (3 babes, 4 years old and younger) to see me in our playroom playing with them, not constantly in the kitchen, and as such, developing recipes that are quick and easy, but also healthy and colorful is the key.
When I was introduced to Village Farms last year I was immediately intrigued – all of their tomatoes are greenhouse grown and are just bursting with flavor. One variety we have fallen for is Village Farms' Cherry No. 9 Fall in Love Again® tomatoes. They are good on almost anything and sweet enough to be a satisfying snack even for the littlest family members. Loaded with vitamin C, beta-carotene, and riboflavin, these sweet little tomatoes are a healthy choice and natural immune booster (which is perfect for a home full of little ones).
One Pan Roasted Cherry No.9 Fall in Love Again® Tomatoes, Chicken & Potatoes with Lemon Salad Recipe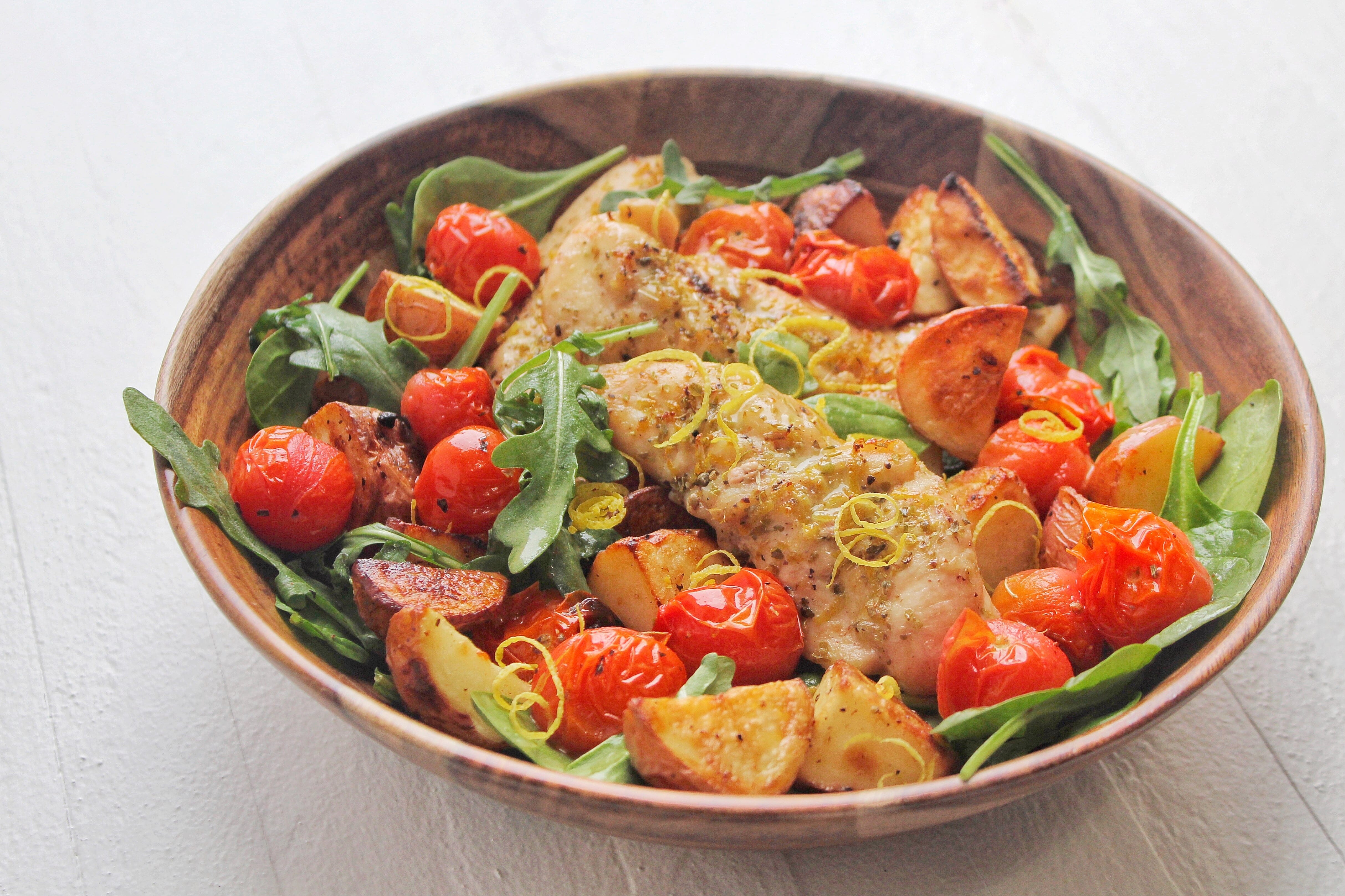 Recently I developed a recipe specifically for Village Farms' Cherry No. 9 Fall in Love Again® tomatoes. This easy sheet pan meal; Roasted Tomatoes, Chicken and Potatoes w/ Lemon Salad is perfect for any family or couple, and also perfect year-round. The seasoned chicken breast tenderloins get all tender and juicy and then quartered potatoes and full tomatoes get roasted until perfected; then tossed with greens in a lemony homemade dressing, topped with lemon zest. The whole dish comes together in just 45 minutes, and the tomatoes give it that beautiful pop of color my family and I love.
Just last week, I made this dish that is now a staple in our home, again and had my best friend over for the meal. Not knowing that I had even developed this recipe with Village Farms, she said: "these tomatoes taste even better than the ones my parents have grown in their yard." And, I'd agree. If you are looking for a delicious recipe that comes together easily and quickly check out this recipe, and if you are looking for a tomato variety that is kid-friendly and perfect for so many recipes as well as salads, snacks, etc. be sure to look for Village Farms Cherry No. 9 Fall in Love Again® tomatoes in a store near you. You will not be disappointed!
Created exclusively for Village Farms by Lunches + Littles.
Print