Sauces. Maybe one of the hardest things to master in the kitchen, and probably one of my favorite things to make. Making sauces with these tomatoes is fantastically easy, because one of the key things to making a great sauce is to use the best possible ingredients to begin with, and another is to do as little with it as possible. I'm a huge fan of keeping it light and simple whenever possible.
Tomato sauce at home, or in a restaurant, is the perfect outlet for all the tomatoes ripening around your kitchen when you've been a little too ambitious about how many you're going to go through this week, lol. You can let them safely get as ripe as possible, and when you feel like they're as soft and juicy and fragrant as they're going to get, into the pot they go. I like to either sweat them clean in a pot with some onion, olive oil, thyme, oregano and chili flakes, or roast them to dry them out a bit and deepen the darker tones of the sauce. If I have a party coming up and they're small tomatoes, I'll throw them in a slow oven and dry them right out for oven dried tomatoes for antipasti.
What I particularly love about the mini san marzano tomatoes when it comes to making sauce is how robust and meaty they are. I like to emphasize this as much as possible by adding the chopped mini san marzanos to the cooking process in stages so you still end up with some big meaty pieces, and the ones you add near the end don't get cooked all the way out so you get rich, chunky texture.
Recipe – Chunky Heavenly San Marzano Sauce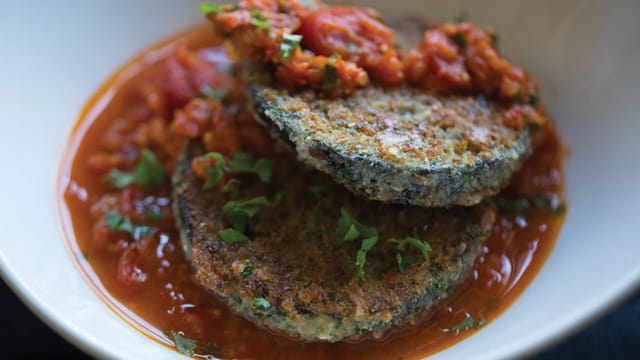 Eggplant Melanzana becomes a hearty vegetarian dish when we've used the chunky mini san marzano sauce as the base — this makes a great appetizer on its own, or for that matter I'll often use this as the base for a dinner and top it with grilled chicken or sea bass. I went from not being a fan of eggplant to becoming a full-on convert and huge supporter of the eggplant after traveling in Sicily for a while. I was amazed by how such a dark, imposing vegetable could end up being such a light, refreshing hot weather treat.
One of the keys to dealing with eggplant is to salt and press it ahead of time, even if its only 30–45 minutes, it helps to extract some of the bitterness of the eggplant.
One of the other big things, in particular when you're making Eggplant Melanzana, is to be sure the eggplant is well cooked & tender prior to the breading stage —
this will ensure that once it's cooked again, even for the short time it takes to brown up the crust, it will come out soft and creamy in the middle — an undercooked eggplant is a huge, unappetizing miss, lol.
Recipe – Eggplant Melanzana with Chunky Heavenly San Marzano Sauce
The other end of the spectrum is roasting and reducing and hyper-concentrating all those great sugars into an awesome roasted mini san marzano tomato paste.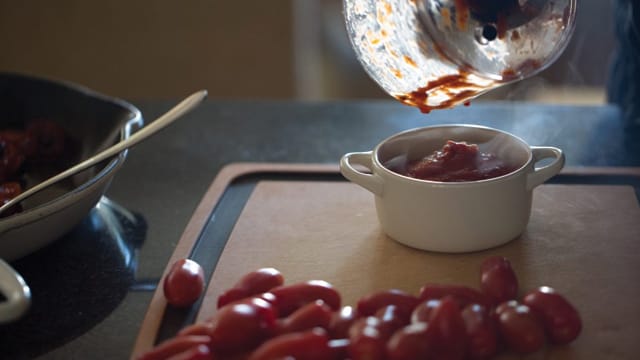 Recipe – Heavenly San Marzano Tomato Paste
I've talked about it before, but I typically freeze them in ice cube trays, then I've always got a little block of intense tomato goodness around in the freezer to add to whatever needs it in the moment…
In this gluten free "faux spaghetti" made from spun zucchini, I use the roasted mini san marzano tomato paste to flavour ricotta for a rich roast tomato finish, and a tart garlicky Cherry No. 9 tomato coulis to dress the noodles. The noodle itself is just raw zucchini done on a spiral cutter,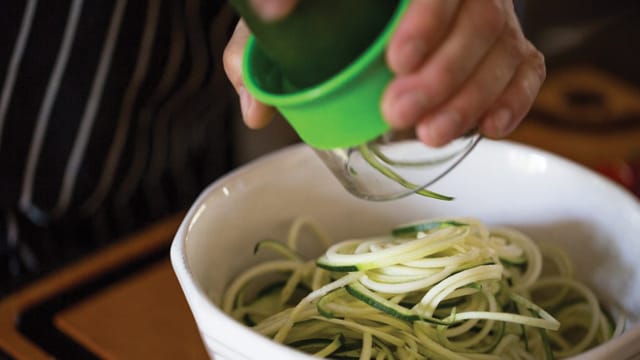 so I either just cook it super lightly in the tomato sauce before serving, or else I've been more often than not serving it cold "thai beef salad" style — I whisk a bit of olive oil into the chilled tomato sauce and dress the "zucchini noodles" with it like a vinaigrette, leave it in the fridge overnight to marinate, and serve it as a chilled salad with some fresh lime and toasted pumpkin seeds — super light & fresh.
Recipe – Cherry Tomato Crudo Sauce
Recipe – Zucchini "Spaghettini" with Cherry Tomato Crudo Sauce
When I'm dealing with a lighter dish, thinner noodles, seafood, etc., and I'd like a more delicate sauce, I like to make a smooth velvety coulis with lightly roasted Cabernet Estate Reserve™ tomatoes. Great sweetness and a very complex but soft complimentary acidity in the background means this sauce will be subtle but still hold its own with robust flavours.
The natural sweetness in these seared sea scallops play nicely with the sweetness of the Cabernet tomato coulis, but the sauce also has enough body and acidity in it to balance out the salty pancetta crisps.
Recipe – Cabernet Estate Reserve™ Tomato Coulis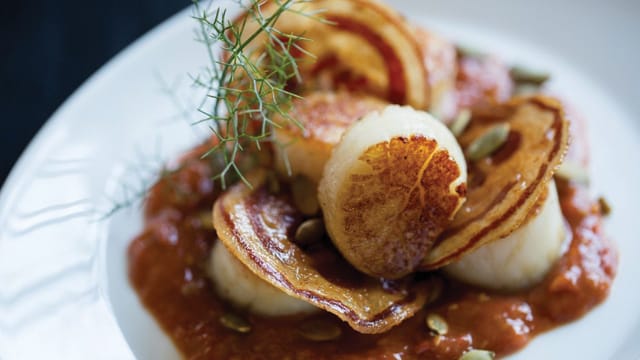 Recipe – Diver Scallops with Cabernet Estate Reserve™ Tomato Coulis
It's a nice light sauce for pretty much any fish, great for grilled chicken, and lately I've been using it as a sauce to finished sautéed green beans, kale, mustard greens, radicchio, etc. — great complimentary sauce for green vegetables or specifically braised or raw bitter greens.
At the end of the day, I just make it a habit to keep a ready stock of a few different tomato sauces on hand in the freezer, all for different reasons & applications, and you get to see which tomatoes behave the best for you for each different method. Tons of fun, you know exactly what's in your sauce, and it makes on the fly dinners a touch easier too…
Print