Our Love Handles series is packed for convenience in lovable grab 'n go bags. Enjoy a healthy snack or meal with our exclusive varieties.
Meet the Love Handles series: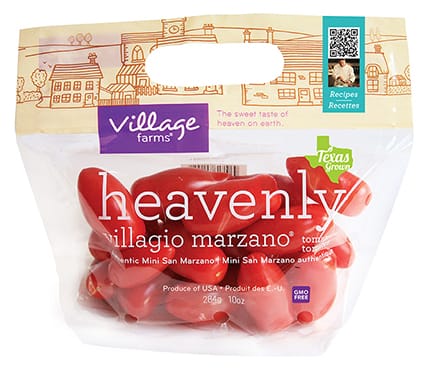 heavenly villagio marzano®
The sweet taste of heaven on earth.™
Village Farms' Heavenly Villagio Marzano® is a true Mini San Marzano whose genetics originated in a small town of the same name near Naples, Italy. The San Marzano was first grown in the rich volcanic soils shadowed by Mount Vesuvius 240 years ago. Today, this mini version is grown exclusively by Village Farms.
Flavor
Mini yet hearty, the Heavenly Villagio Marzano® is perfectly balanced with sweetness and acidity. A juicy, tantalizing eating experience. This Mini San Marzano is an heirloom-type variety of plum tomato that is distinctive in flavor! Its appearance is unique: thin and somewhat pear-shaped. It has a thick wall, making for a nice crunchy texture and bite. Naturally luscious and exquisite, the Heavenly Villagio Marzano® is remarkably sweet.
Serving Suggestions
The San Marzano tomato is known by chefs the world over as the premier sauce tomato, and our mini version is equally great to cook with, too. Try our heavenly villagio marzano® salad recipe.
Benefits
Heart-healthy snacking, rich in vitamins A & K. This juicy bite-size morsel benefits eyesight and strengthens bones, while the heart-healthy lycopene increases when cooked.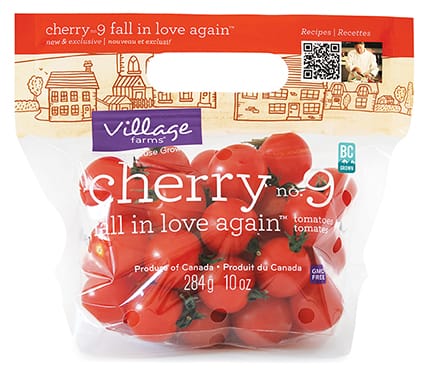 cherry no. 9 fall in love again®
Exclusive to Village Farms, the Cherry No. 9 hails from southern France. Outside the walled city of Avignon in France, within the fragrant region of Provence, we absolutely fell in love again with tomatoes when first trying this variety… you will too!
Flavor
Juicy round cherry tomatoes with an intense sweet flavor and a very high brix. Smooth and sweet, its flavor is intoxicating, compelling anyone who eats one to eat another and another! As if taste wasn't enough, its vibrant red color makes the Cherry No. 9 even lovelier.
Serving Suggestions
Wonderful fresh or roasted, enjoy the Cherry No. 9 Fall in Love Again® alone or in a delicious dish. Try our cherry tomato, tofu, and edamame salad recipe.
Benefits
Loaded with vitamin C, beta-carotene, and riboflavin, this tomato is a healthy choice and natural immune booster.
cabernet estate reserve™
Exclusive to Village Farms, the Cabernet Estate Reserve™ hails from the middle of the Mediterranean region. The rich dark color is distinctive. The Cabernet Estate Reserve™ provides an unforgettable eating experience with each mouth-watering bite. The flavor profile is especially sweet.
Flavor
The superb crisp fruity taste has a flavor all its own! The Cabernet Estate Reserve™ is smooth and fragrant, which creates a striking presentation.
Serving Suggestions
The Cabernet Estate Reserve™ will "wow" any dish. Try our pasta alla norma recipe.
Benefits
A healthy dose of vitamins and minerals such as B6. Vitamin B6 helps the body metabolize protein and reduce the risk of heart disease. Low in calories and rich in fiber, these exquisite tomatoes are a healthy snacking alternative.
true rebel mix®
A revolution in flavor™
Village Farms' True Rebel Mix® is a radical pack of four to six different flavorful, plump varieties including the Mini San Marzano, Cabernet Estate Reserve™, and Cherry No. 9 along with fruit from our secret gardens!
Flavor
Each tomato has a distinctive taste, shape, size, and color. The goal of our True Rebel Mix® is to provide consumers with a rainbow of brilliant colors ranging from yellow to orange, red, green, and brown with amazing flavors.
Serving Suggestions
Break away from the norm in your culinary creations by mixing the various varieties that make up the True Rebel Mix® into your salads and dishes. Try our rebel tomato tart recipe.
Benefits
A healthy choice full of essential nutrients and antioxidants. Rich in lycopene and other essential nutrients and antioxidants, this mix is as healthy as it is revolutionary.
Print