Do something different this holiday: Follow this guide for the perfect cheese and tomato pairings
by Diana Pittet
---
Nothing signals a special holiday gathering like a cheese platter. Put one on the table and watch the crowd, drink in hand, gather around for a generous slice from a wedge of cheese.
This festive season, instead of garnishing your cheese board with a typical bunch of grapes, surprise, delight, and nourish your guests with some pop-them-in-your-mouth tomatoes.
Swapping grapes for any variety of Village Farms tomatoes may seem unconventional, but it's not as strange as you may think. Remember: tomatoes are fruits, after all, and they are wonderful companions to cheese, their sweet acidity playing off the richness of the dairy. In a season of regretful overindulging, tomatoes will be a welcome relief for your guests. And it's super easy for you as the host – no cooking or prepping needed.
Here are some tips for creating your own winning tomato and cheese platters during the winter holidays or scroll down for some pre-set pairings:
Cheese Platter Principles
Variety is key. Just as Maverick Mix® is an appealing assortment of colors, flavors, shapes and sizes, so too should your cheese platter. Mix it up with different milk types (cow, sheep, goat, water buffalo); textures (soft; creamy; firm; hard); and styles (fresh–chevre or mozzarella; bloomy rind–think brie; stinky, Cheddar; alpine–Gruyere is an example; blue; etc.). Simply arrange them on a plate and place a bowl of Maverick Mix® in the center.
Pairing Principles
The pairings can be more deliberate than just putting out a mix of cheeses and tomatoes. Select the perfect cheese for a specific Village Farms tomato, just as people pour a particular wine to complement a singular cheese. Rarely are there wrong combinations for a pairing, but there are certainly more successful ones.
Here are three guidelines to steer you in the right direction:
1. Pair like with like. For example, a sweet tomato with a cheese with sweet notes, such as an aged Gouda
2. Pair contrasting flavors, like a salty cheese with a sweet tomato, (think pretzels with chocolate)
3. Pair geographical partners, like a tomato of southern Italian origins with a cheese from that region
Specific Pairings
I used a combination of the three principles for the following tomato pairings.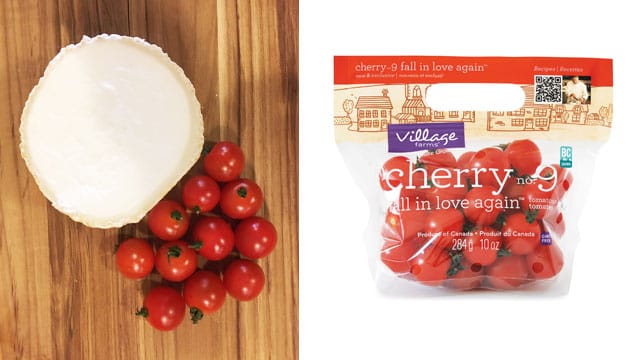 Cherry No. 9 Fall in Love Again® & Goat Cheese
When I think of Provence, the southern region of France from where this petite round tomato hails, I think of goat's milk cheese. For this reason I suggest a fresh goat's milk cheese–called chevre–or a semi-aged one, such as French bucheron, a goat's milk brie, or Bannon, for these visually cheerful fruits. This coupling makes gustatory sense, too, as the lemony brightness of the cheese is nicely complemented by the intense sweetness of the cherry tomatoes. For something special, select a goat's milk cheese mixed or rubbed with Provencal herbs, such as lavender, rosemary, or thyme.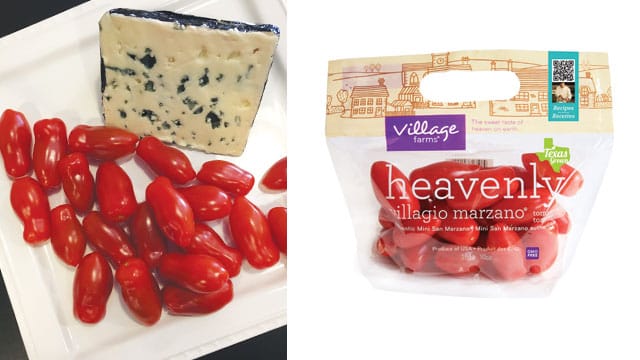 Heavenly Villagio Marzano® & Italian Cheese
What makes more sense that pairing an Italian tomato with Italian cheese? There are so many directions that you can go in to make bella figura: A bowl of fresh ricotta drizzled with olive oil and fresh herbs; a hunk of Parmigiano Reggiano to chip at; a luscious burrata with a sprinkle of olive oil and black pepper; a wedge of Gorgonzola–any or all served with an accompanying bowl of these heavenly mini san marzano tomatoes. With a little prep, you could skewer the mini tomatoes with cherry-sized balls of mozzarella, for your guests' ease and delight.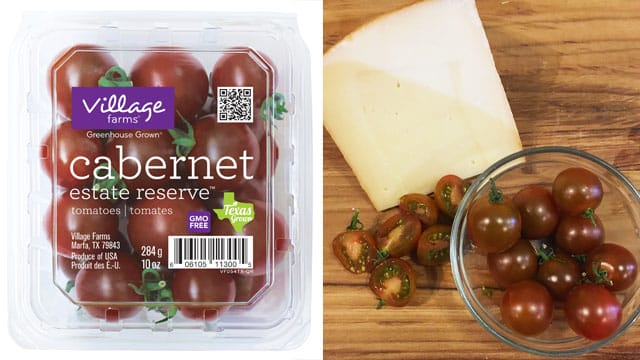 Cabernet Estate Reserve™ & Sheep's Milk Cheese
There is no single type of cheese that dominates the middle of the Mediterranean region where the distinctively dark Cabernet Estate Reserve™ was born, but there are indeed quite a variety of sheep's milk cheeses, each style of which will pair beautifully with the deep flavor of the tomatoes. There are flocks of options: Manchego or Idiazabal from Spain, P'tit Basque or Abbaye de Belloc from France, Pecorino Toscano or Moliterno from Italy; Feta or Halloumi from Greece; Paksi Sir from Croatia–just to name a few. To be especially luxurious at the holidays, be extravagant and offer a sheep's milk cheese studded with truffles, such as Cacio di Bosco al Tartufo.
Special thanks to Diana Pittet who is a Cheesemonger at The Cheese Cave, Little Silver, N.J. Diana also serves as Vice Chair, NYWCA Renewing Members, Co-Founder of the Night Owl Hospitality & AP Whisky Club, and a Writer, Consultant & Tour Guide for Food & Drink
Print