Spring is here, and summer is right around the corner, and when it comes to nicer weather- there are always a couple of things that we enjoy a bit more of…. sunshine, the outdoors, cookouts and smoothies! Yep, smoothies are a great way to pack in goodness all year long, but we always find ourselves making them more often during the warmer months.
Cucumbers are not only great tasting in summer salads and as part of veggies trays, etc. they are also perfect in smoothies. We are big fans of all things from Village Farms (like their incredible greenhouse grown tomato varieties and assorted bell peppers), and while they may be known more for their tomatoes, their cucumbers are just as incredible.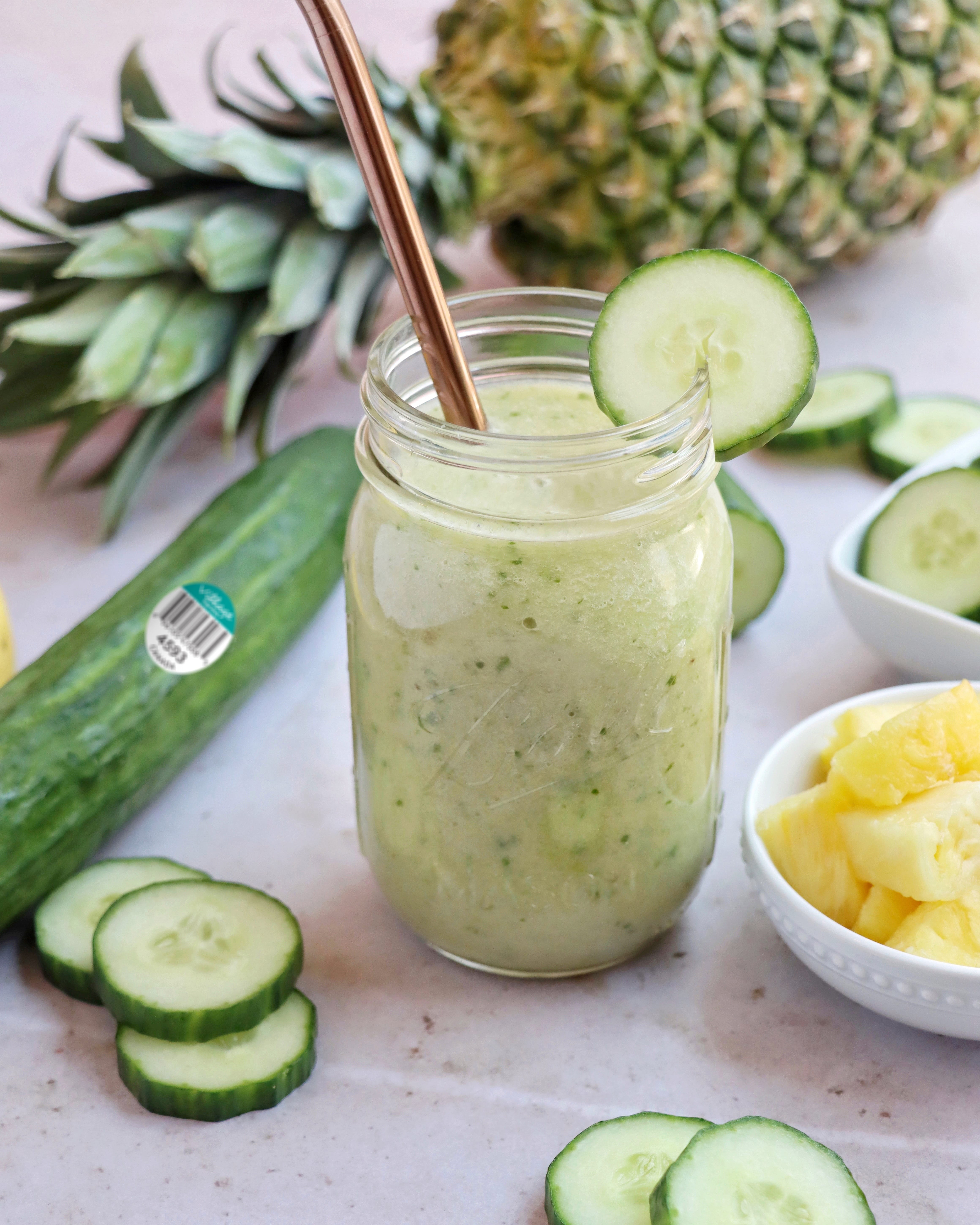 And while cucumbers may not seem like the most obvious smoothie ingredient, but don't knock it- until you try it! Cucumber adds a delicious flavor to smoothies, and is full of nutrients and water making whatever you are making even better. Recently we created these delicious Fresh Cucumber Smoothies which turned out so creamy and yummy, and are a great way to load up on nutrients, while beating the heat. Whether for a snack, breakfast or other mealtime addition, these smoothies are a family-friendly hit that we were so excited to work with Village Farms on.
For these Fresh Cucumber Smoothies, we used the cool and refreshing Luscious Seedless Long English® cucumbers from Village Farms. Did you know cucumbers are loaded with vitamin K and C, and are also an excellent source of potassium? Cucumbers boast all sorts of health benefits and are the perfect smoothie addition.
For these Fresh Cucumber Smoothies we blended up Luscious Seedless Long English cucumbers, fresh pineapple, banana (frozen works best!) and a bit of orange juice for a tasty, refreshing smoothie that screams Spring…. and Summer! And, if it's a super hot day, throw a bit of ice into your blender before you blend for an icier version of this treat!
To make these smoothies this time, we used our new BlendJet blender, and were amazed at how easy it was to use. I was certain that I would have to get out a high-powered blender for the frozen banana (or ice if using), but the BlendJet blended it all up without any issue. And we have actually teamed up with Village Farms to giveaway a BlendJet 2.0 and more to one lucky winner- click here
And, for more healthy recipe ideas as well as family-friendly recipes be sure to check out our feed @lunchesandlittles where we share kid-approved meals, lunchbox inspo, family favorites and tasty treats! And, next time you head to your grocery store, be sure to pick up some Luscious Seedless Long English cucumbers from Village Farms, as well as some of their tomatoes and peppers. With grill season here, there are endless ways to use their produce for everything from Grilled Portobello BLT Pizza to Grilled Cioppinio Foil Packs!
---
Recipes and blog were created exclusively for Village Farms by Lunches + Littles​​​ ​​​​​​​
Print