Summertime means less time with the oven on and more time spent outside grilling. That's why I partnered with my friends at Village Farms to bring you two delicious and healthy summertime recipes featuring their tasty tomatoes. I love combining smokey grilled flavors with fresh ingredients like delicious summer tomatoes. Both of these recipes are going to be perfect for all of your backyard entertaining needs. After all, this summer it's all about grillin' and chillin'! We have two new grilled recipes featuring Village Farms NEW Sensational Sara® tomatoes and their Lip Smackn' Grape® tomatoes: Stuffed Sensational Sara Snacks and Grilled Salmon with Cajun Lip Smackn' Salsa! These healthy and easy to prepare recipes will add some spice to your Summer cooking!
If you have followed me for some time, you know that I go way back with Village Farms, and for good reason. Their tomatoes are homegrown in Marfa, Texas and are some of the sweetest tomatoes around. Next to growing you own tomatoes, there are none other that compare. I love that I can always count on Village Farms to have the sweetest, perfectly ripe tomatoes year round, but especially in the summer when I use tomatoes in my recipes quite often.
The first recipe that we are sharing is the Stuffed Sensational Sara Snacks. This recipe is perfect as a side dish to a lean protein, easy appetizer for entertaining, or to serve up with a leafy green salad. These gorgeous Sensational Sara® tomatoes are the perfect size for stuffing, and this caprese farro salad is so good inside. It's all of your favorite Caprese flavors packed into the cutest tomato package, and then grilled for a few minutes for a little smokey flavor that takes it to the next level.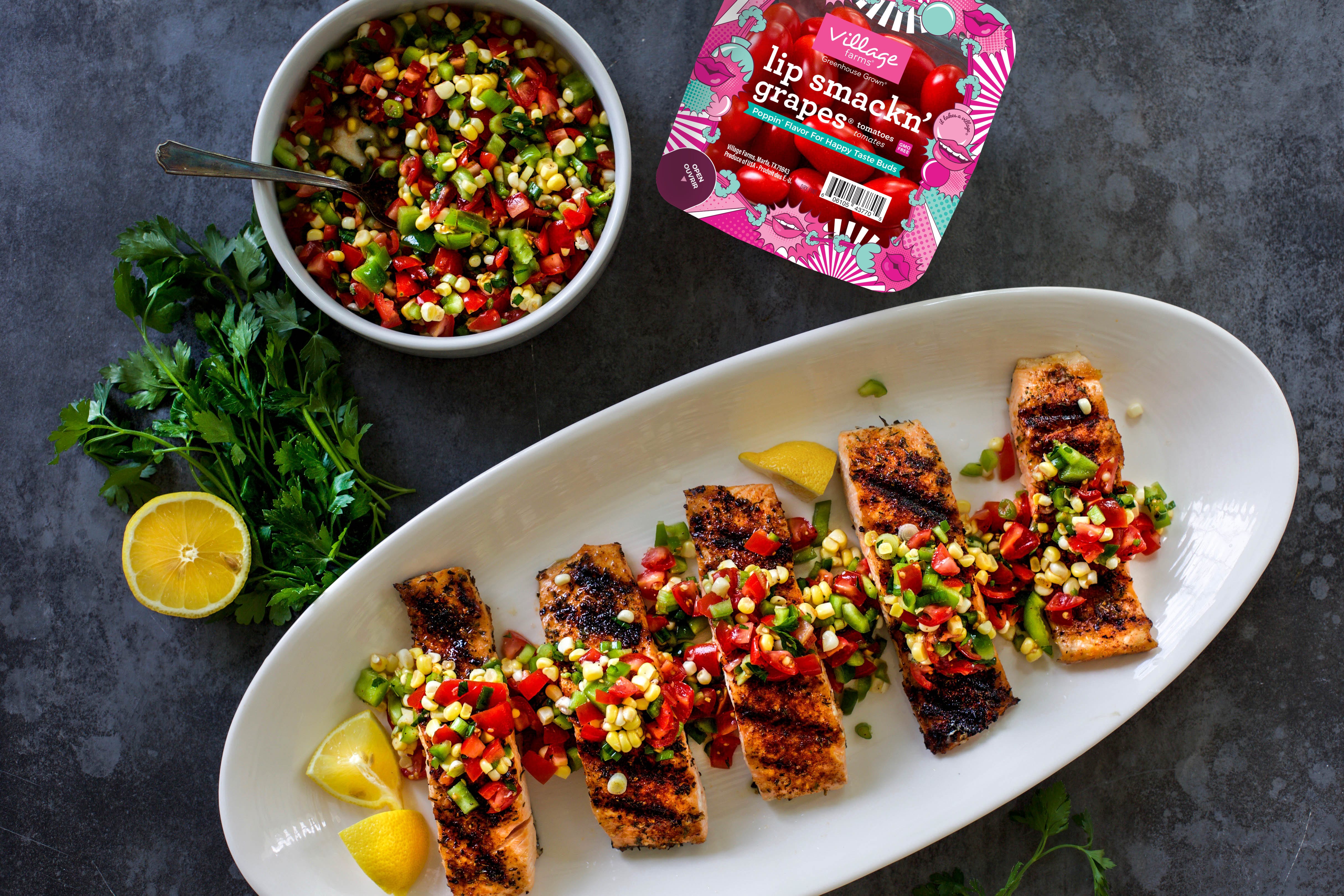 The second recipe we are sharing is the Grilled Salmon with Cajun Lip Smackn' Salsa! Blackened salmon gets grilled to perfection and then gets topped off with the most delicious Cajun salsa for some freshness and a little extra heat too. I love the Lip Smackn' Grape® tomatoes for this salsa because they are super sweet and hold up their texture in the salsa. I add in corn, bell pepper, some Cajun spice, and lemon juice to really enhance the already delicious tomatoes. You will not only be topping your fish with this salsa, but you will be whipping this recipe up for a quick dip that will sure to be a hit with your friends and family. It's just that good!
Can we say hello summer with these recipes? They are both so good and you are going to love making them all season long!
---
Recipes and blog were created exclusively for Village Farms by My Diary of Us
Print