Have you heard the news? I'm launching a brand new virtual Supper Club where we can come together as women and share, cook, eat, and get to know one another all through the touch of a screen! With the launch of this supper club, I am hoping to bring back a sense of community among other women, share delicious recipes, find out more about YOU, and to bring a little fun back into cooking! I partnered with Village Farms to bring you two of my favorite easy recipes that are perfect for a gathering of friends and family, or in this case they are perfect for any supper club! My Green Monster English Muffin Pesto Pizzas with roasted tomatoes and my Individual Baked Spaghettis are super simple to make and they are guaranteed to delight kids and adults alike!
You might be wondering how a virtual supper club is going to work, well here is the deal…
Green Monster English Muffin Pesto Pizzas
For this supper club, we are going to be cooking together live over on my Instagram page where you can interact with other home chefs, will be able to ask me on the spot questions that you might have about feeding your family, hosting parties, etc… nothing is off limits here, so there is no need to be shy! (Hey, you just might even make a new friend!) I will be showing you just how easy and fun it is to use Village Farms fresh tomatoes to make two of my favorite recipes from my cookbook, Natural Baby and Toddler Treats, along with how to let to go and have a blast in your kitchen!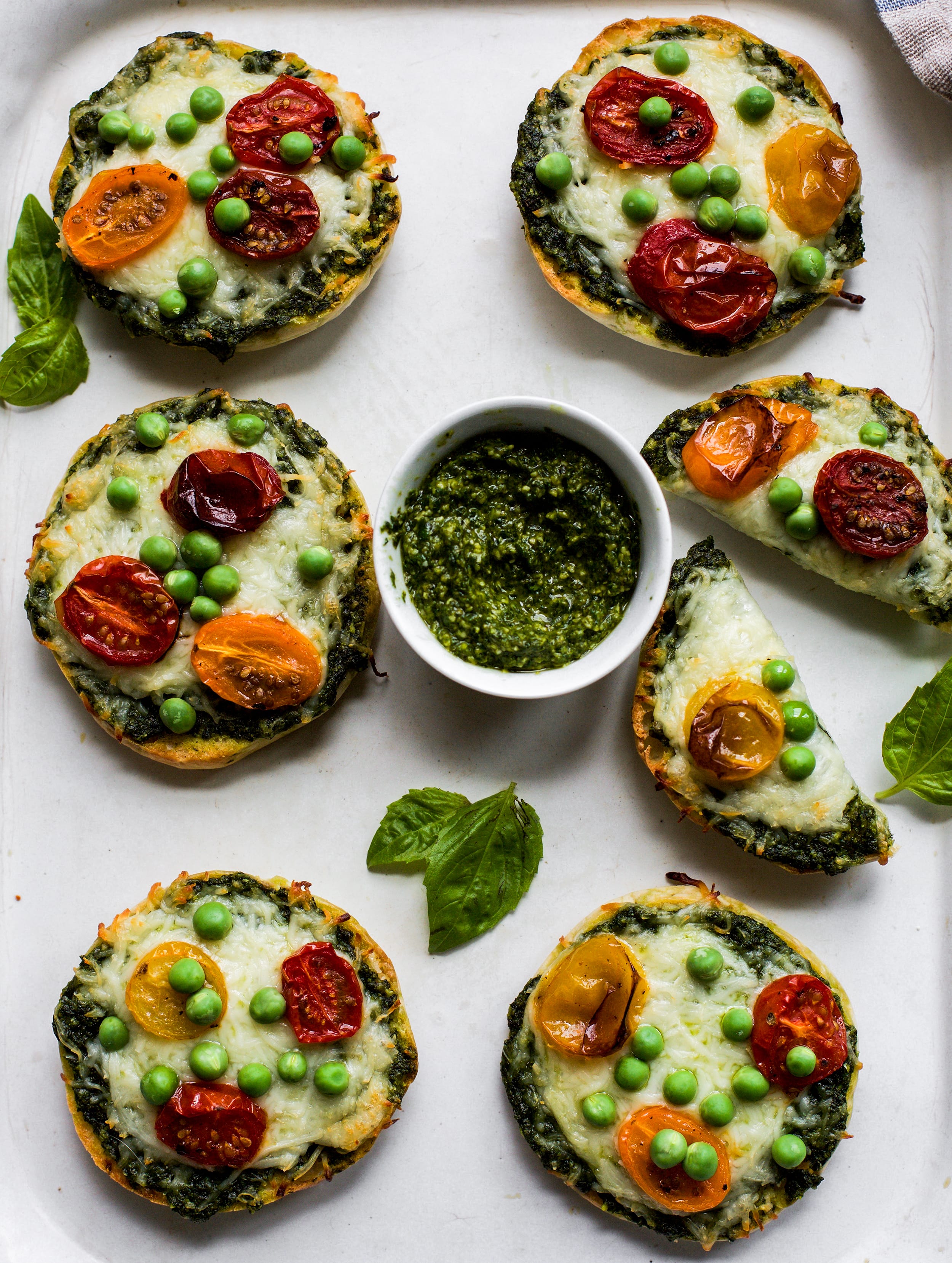 First up we are going to make my green monster English muffins pesto pizzas, which happen to be the perfect party appetizer, or lunchbox item! With the addition of fresh Village Farms Maverick Mix® roasted tomatoes on top, these mini pizzas are extra tasty and you will love that you will end up serving multiple veggies per pizza!
The second recipe we will be cooking up together are my individual baked spaghettis which is a take on a classic recipe my mom used to make growing up! I am going to show you how to transform Village Farms Heavenly Villagio Marzano® tomatoes into a homemade meat sauce that makes this spaghetti extra delicious! You will love making individual serving sizes the next time you host your own supper club or even for a family weeknight meal so that everyone ends up with the coveted crispy cheese edges!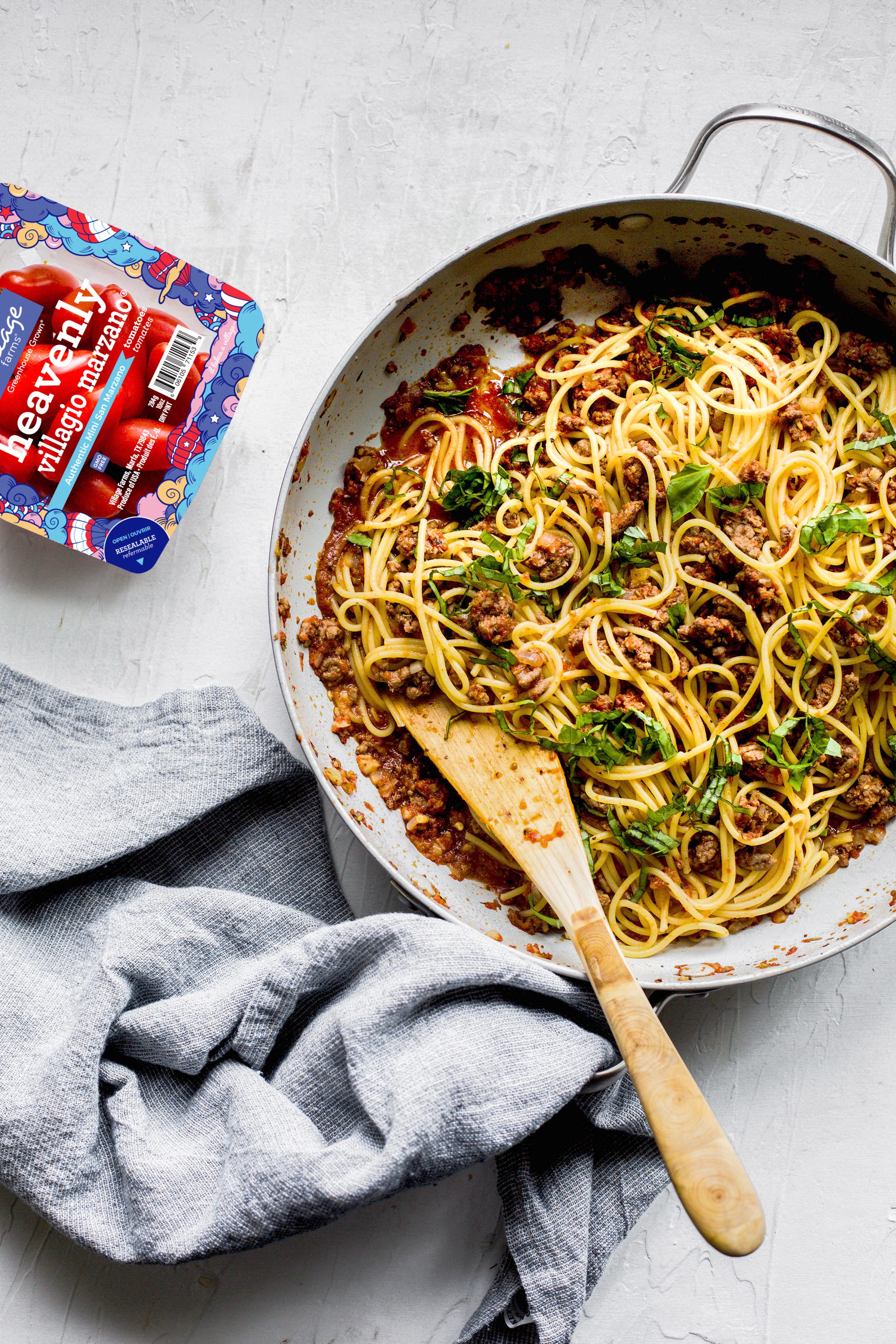 My hope for this supper club is that you can forget about perfection in the kitchen, and embrace the imperfections that is life instead! Whether you have a toddler clinging to your leg as your cook up dinner, or have a dog barking for attention, let's have fun regardless of the chaos! Crank up the tunes and pour yourself a drink, because we are going to have a blast making some really delicious food!
Tune in Monday and Thursday for two Instagram live cooking sessions plus plenty of time for Q&A and girl talk! I want to know all of your favorite ways to make memories through food with your friends and family! I am willing to bet, most of them start right in your very own kitchen!
I hope you will be cooking along with me this week and joining me (and other amazing women) as we rediscover what it means to have fun in the kitchen through this virtual supper club! Just head over my Instagram page to participate! These recipes are from my cookbook, Natural Baby and Toddler Treats and are a prime example how the book goes beyond babies and is really recipes that the whole family can enjoy!
Come introduce yourself, I can't wait to know more about you!
Recipes and blog were created exclusively for Village Farms by Leigh Ann Chatagnier from My Diary of Us
Print