Christmas week is here (can you believe it?), and between last minute shopping, baking, wrapping, and more, we are also finding family-friendly things to do with our little ones and fun platters and sides to share with close family this holiday.
Now, on most holidays we travel, but this year we are doing things just a little differently because of all of the craziness that is 2020. We know that for so many people this year, holidays are looking very different too, but that doesn't mean we can't still enjoy delicious food and fun treats with loved ones. And that is why we are so excited to partner up with Village Farms this week, and share two simple, no-bake recipes, that are sure to delight your taste-buds- and your little ones!
First up we have our Easy Antipasto Wreath featuring the Maverick Mix® Tomatoes from Village Farms. This wreath combines tomatoes, salami slices, olives, peppers, fresh mozzarella cheese balls, basil leaves- and more. It's the perfect appetizer platter, full of color and super simple to put together, yet still very impressive looking.
Our Easy Antipasto Wreath gets some added pops of color thanks to the mix of 4 to 6 different flavorful varieties that are found in each container of Maverick Mix® Tomatoes. Red, orange, yellow, green, and brown- there's always a rainbow mix as well as sweet and intense flavor you will love.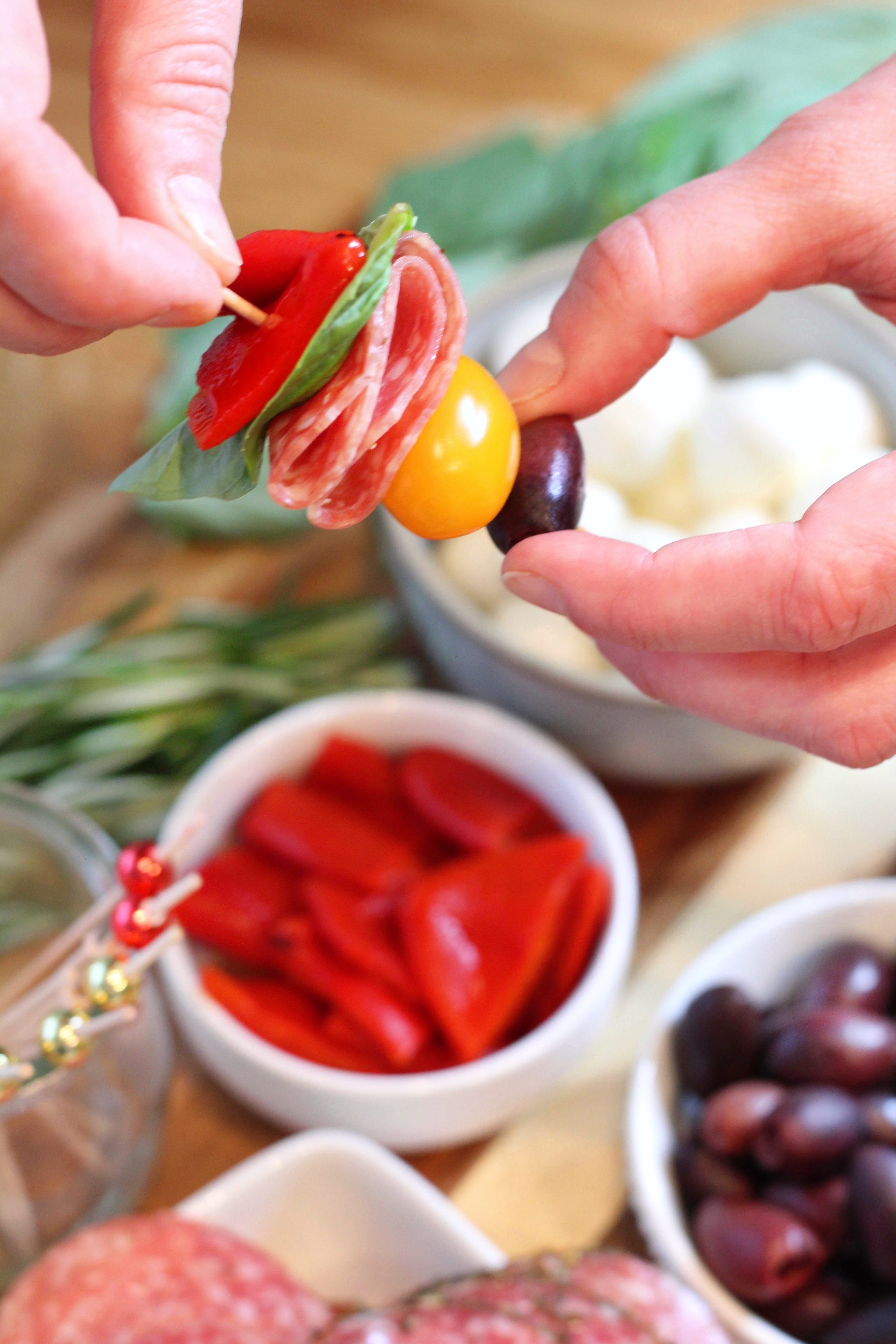 This variety from Village Farms is one of our favs and as a bonus, our kids love them too. The Maverick Mix® Tomatoes are perfect for adding to salads, using to top pizzas, enjoying straight out of the package and so much more. These tomatoes are also rich in lycopene, and full of other nutrients and antioxidants. You will absolutely love this mix in this recipe.
For our Easy Antipasto Wreath simply gather your ingredients (prepping them prior as needed), and line up little bowls/containers so you have everything ready to go. Then, simply thread different ingredients on skewers, as shown. This is also a great one to get your little ones in on. Depending on their ages, little ones can help thread skewers or hand you items to add to the ones you are making.​​
And a little pro-tip: Not every skewer needs everything… mix and match, using different combos on different skewers. Keep some skewers meat and cheese free, for those that may not want to or be able to eat those items.
Once you have all your ingredients threaded on skewers, simply arrange them on a circular plate as shown adding pops of rosemary for added visual interest and voila! Get the full instructions below.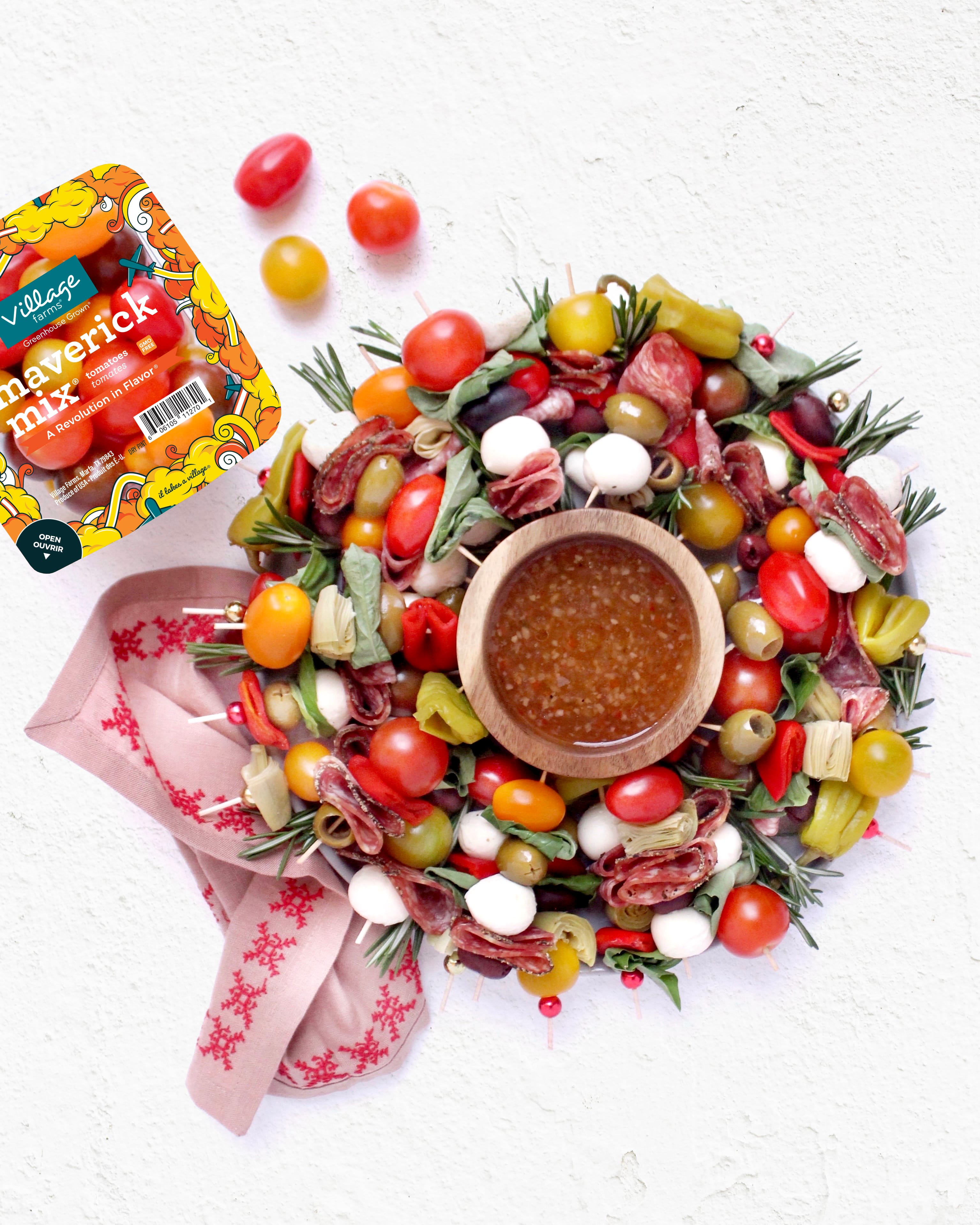 Next up, we have something totally different for you. Are you ready to take a little trip back to childhood? Okay. Let's go!
Rock candy is something that is not just sweet- it usually has some sweet memories attached to it too. Often found at fun vacation spots, carnivals, amusement parks, candy stores, and more- this treat is one that we had not had in years. But last week, we got to work making it with our little ones and not only did it bring back sweet memories- we also made some new sweet ones too!
Now, you may be wondering…how does rock candy tie in with the Village Farms brand? Well, that's a fair question. To answer it, let's talk about the ingredients that are typically found in rock candy- sugar and water. Yep, that is it (seriously!). Now, of course you can always add different flavorings and food colorings as desired, but can make it with simply sugar and water alone too. Who knew, right? For this version, we subbed fresh cucumber water, from Village Farms' Luscious Seedless Long English® cucumber variety in place of the water. Not only did this add a bit of flavor and color, but it also added in a bit of nutrients too.
And, that brings us to another question, did you know that Village Farms doesn't just grow tomatoes? In addition to their delicious greenhouse grown tomato varieties, they also grow mini cucumbers, long English cucumbers, as well as a variety of sweet bell peppers!
Now back to the rock candy….Blending and straining the cucumber juice was a great little activity to do with our kids, as was the melting of the sugar and of course- the growing of the rock crystals on the sticks. We loved doing this fun activity with our kids last week, and think it would be a great one for you to do with them Christmas week!
Making our Cucumber Peppermint Rock Candy was a combination of blending, a bit of science and some patience. That is all it took for us to transform a couple of simple ingredients to homemade nostalgic rock candy sticks with a cucumber twist! See some of the sneak peeks below, as well as the instructions to make this fun treat- perfect for kids, or us kids at heart!
---
Recipes and blog were created exclusively for Village Farms by Lunches + Littles​​​ ​​​​​​​
Print