Thanksgiving is right around the corner and friends, let me tell you, it doesn't have to be a stressful day! With the right amount of prep, you can enjoy your holiday with your friends and family and feel confident about the dishes that you are serving them too! I've got a few recipes that will make your Thanksgiving day a breeze, starting with a make ahead breakfast! I partnered with Village Farms to bring you three delicious and easy recipes that will complete any Thanksgiving while alleviating some of the to-dos the day of! These three recipes will help you feel like a rockstar in the kitchen when turkey day arrives!
Herby Tomato and Goat Cheese Egg Muffins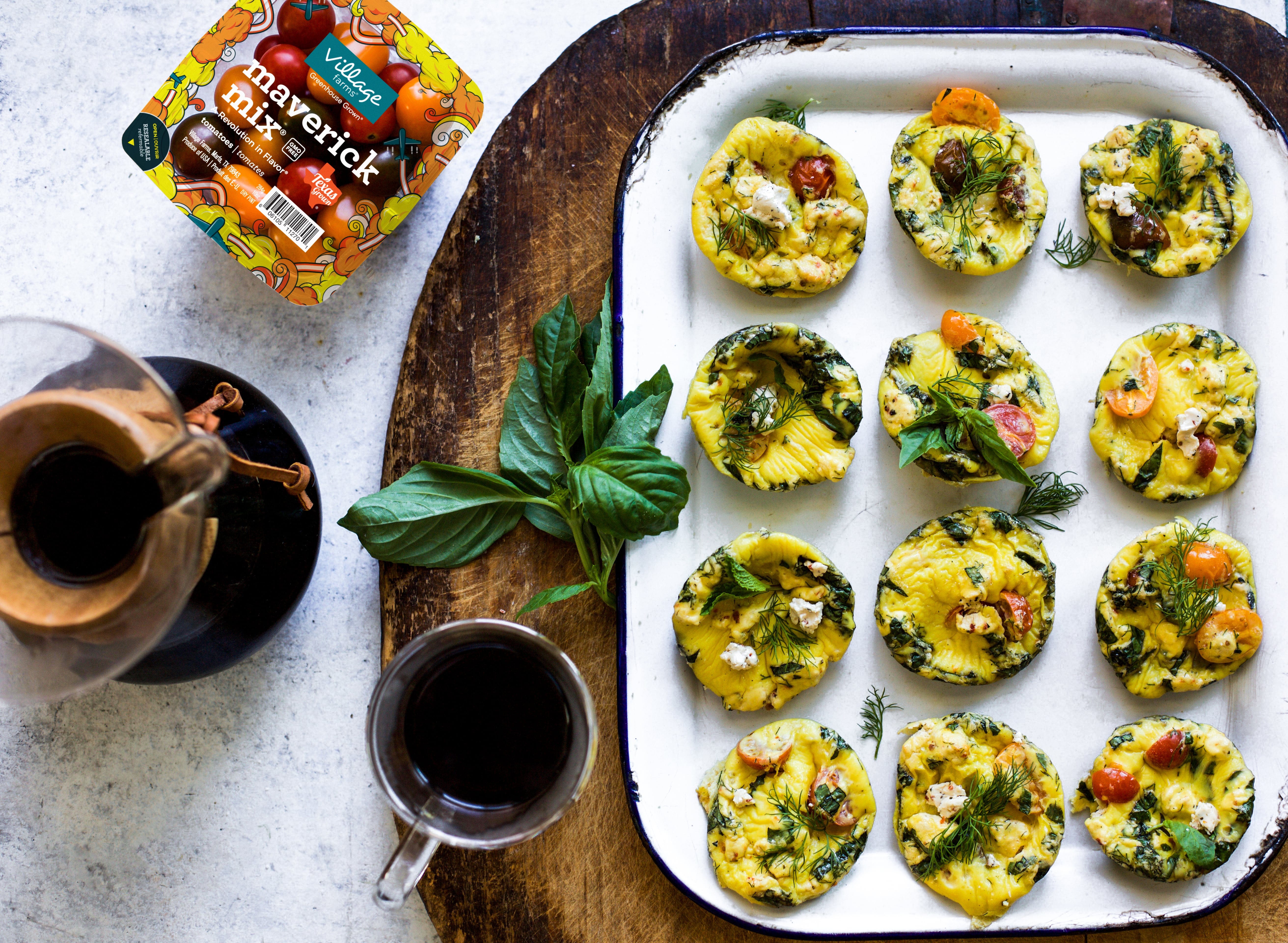 I love an easy breakfast the morning of Thanksgiving because most of the time I am already prepping the big dinner and don't have time to whip up something fancy, plus I want to be able to watch the parade a little and hang with the rest of the family! That's why I created Easy Make Ahead Herby Tomato and Goat Cheese Egg Muffins made with Village Farms Maverick Mix® tomatoes. These can be frozen up to a week in advance and simply reheated for all of your guests in a matter of minutes! These muffins are perfect for kiddos and adults alike and are so full of flavor! Egg muffins keep breakfast light, which helps everyone save room for the main meal, while being satisfied at the same time!
I love finding ways to prep in advance and get others involved on this family-focused holiday so I don't have to spend the whole day in the kitchen while everyone else is hanging out without me! Assign out tasks your kids and other family members can do so they feel like part of the celebration and the delicious meal too! (I bet they will enjoy dinner even more if they had a hand in preparing it!)
One of my favorite sides that I always make a day or two in advance is my cranberry sauce! This year I have a recipe that will wow your guests with a twist on the traditional using Village Farms Cabernet Estate Reserve® tomatoes! My Spiced Tomato Cranberry Sauce is going to be the perfect tangy accompaniment to your turkey this year! This sauce is so great to make ahead because it actually gets more flavorful as it sits in the refrigerator, plus it's one less dish to make on my list for Thanksgiving day!
Side dishes to me are just as important as the turkey itself! My Texas Harvest Succotash is going to be a welcomed sight amongst all of the carbs at the table! It's such a great recipe where you can add in vegetables like Village Farms Cherry No.9 Fall in Love Again® tomatoes and so many more! I put a twist on the traditional and gave it a more harvest feel by adding in earthy fresh sage and butternut squash! All of the ingredients can be prepped a day in advance and simply sautéed up when ready to serve! This recipe is so delicious and beautiful; I am super excited for you all to try this one out this year!
Another easy tip is to shop at one store for all of your Thanksgiving needs to save time! I was able to shop for all of the ingredients in these recipes at my local H-E-B! I love creating my master grocery list of everything I need to buy the weekend before Thanksgiving and then shopping at the beginning of the week so I can get a jump-start on prepping my dishes!
These recipes are sure to bring a little Texas to your table and make your day easy and delicious!
Recipes and blog were created exclusively for Village Farms by Leigh Ann Chatagnier from My Diary of Us
Print