---
As seen on AndNowUKnow® on December 26 
Village Farms Unveils Online Pairing Guide for Fresh Tomatoes and Cheeses

DELTA, BC & MARFA, TX – Consumers looking for exciting snack options as the climax of the holiday
season draws nearer should take note; Village Farms bite-size tomato varieties pair perfectly with a variety of cheeses, and offer a clever twist when swapped in for a cheeseboard's traditional bunch of grapes.
The company is offering a new pairing guide on their website, offering easy solutions for holiday meal-making and entertaining-
solutions pairing the sweetness and acidity of tomatoes with the richness of dairy.
"Our selection of exclusive varieties stems from a passion for tomatoes, and a close collaboration with our global seed providers. Together we look at fruit that will have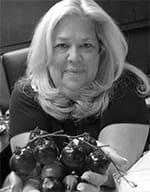 that wow factor in what I call a 'taste experience'," said Debi Street, Vice President of Variety Development and Innovation for Village Farms. "Fruit that passes the test provides flavor that is distinctive, mouth-watering, and delicious. Our Heavenly Villagio Marzano®, Cherry No. 9 Fall in Love Again®, True Rebel Mix®, and Cabernet Estate Reserve® varieties all possess these appetizing attributes and they pair perfectly with creative culinary offerings."
Produce departments feeling left in the lurch by shoppers gravitating toward festive baked treats can use the company's cheese and tomato guide to capitalize on unique cross-promotional sales opportunities this season. The guide offers a fresh take
on a traditional holiday fare.
And in a season that encourages overindulging, fresh tomatoes can be a welcome addition to any holiday spread—no cooking, prepping, or premeditation required—and are an excellent way to get a head start on New Year's resolutions.
Village Farms' quick and easy pairing guide is available through the What's Fresh section of the company's website, and offers tips to further enhance cheese and tomato platters with charcuterie, crackers, and more.
For more on unique ways to drive sales in the produce department, stay tuned to AndNowUKnow.
Print