There are many ways we can increase our consumption of fruits and vegetables and achieve our health and wellness goals in order to feel our best. There is a ton of buzz related to the benefits of a plant-based diet but many of us struggle with the challenges that a 100% vegetarian or vegan diet would bring to our existing lifestyle. Many of us are already consciously increasing our fruit and vegetable intake and find ourselves naturally eating less meat and fish. Now there is a name for this too! The Flexitarian Diet.
A Flexitarian diet primarily consists of fruits and vegetables with the occasional addition of meat and fish. A Flexitarian diet is a new approach to traditional vegetarian and vegan diets and can be customized to fit your lifestyle needs. We have found a helpful book to share with you that is full of options for a Flexitarian diet. It's called "The Flexitarian Cookbook, Adaptable Recipes For Part-Time Vegetarians and Vegans". For a chance to win the Flexitarian cookbook or a Blendjet 2.0 Click here
Read on to learn more about some fantastic exclusive Village Farms recipes we have to share with you featuring our greenhouse grown tomatoes, pepper, and cucumbers!
Looking for a plant-based option? We've got Maverick Mix® Grain Bowl with Grilled Tofu! Choose a variety of colors not just for looks, but for the health benefits. Our Maverick Mix tomatoes not only add a freshness to this bowl but an antioxidant punch too!
Stuffed Sensational Sara Snacks
These gorgeous Sensational Sara® tomatoes are the perfect size for stuffing, and this Caprese farro salad is so good inside. It's all of your favorite Caprese flavors packed into the cutest tomato package and then grilled for a few minutes for a little smokey flavor that takes it to the next level.
Farro Salad with Toasted Pine Nuts and Roasted Tomatoes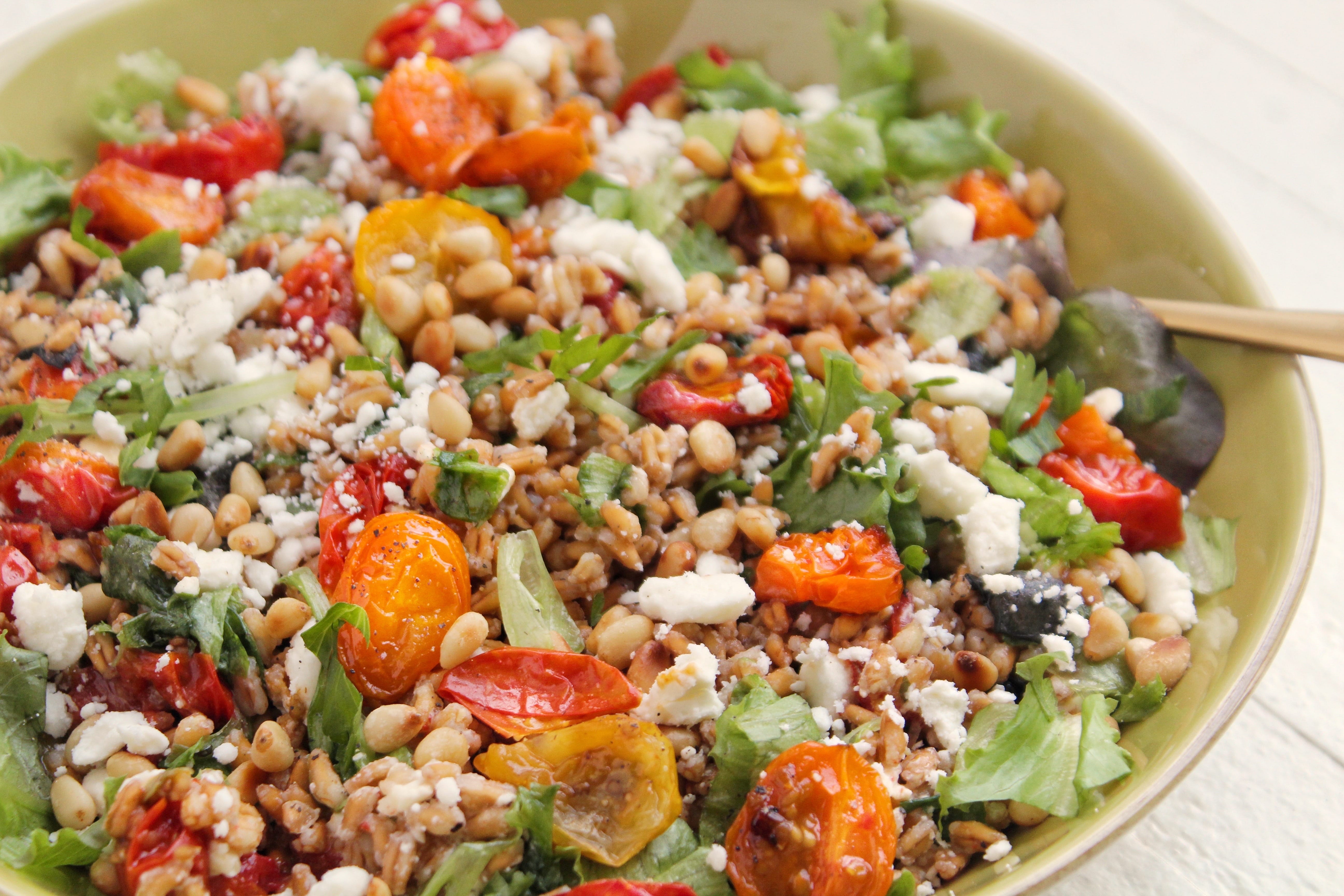 Fresh greens, farro, roasted tomatoes, toasted pine nuts, crumbled feta cheese a homemade lemon vinaigrette- and more, all come together in harmony to create tantalizing flavor. The Maverick Mix® tomatoes in this recipe are totally the star of the dish.
Spicy Asian Cucumber Noodle Salad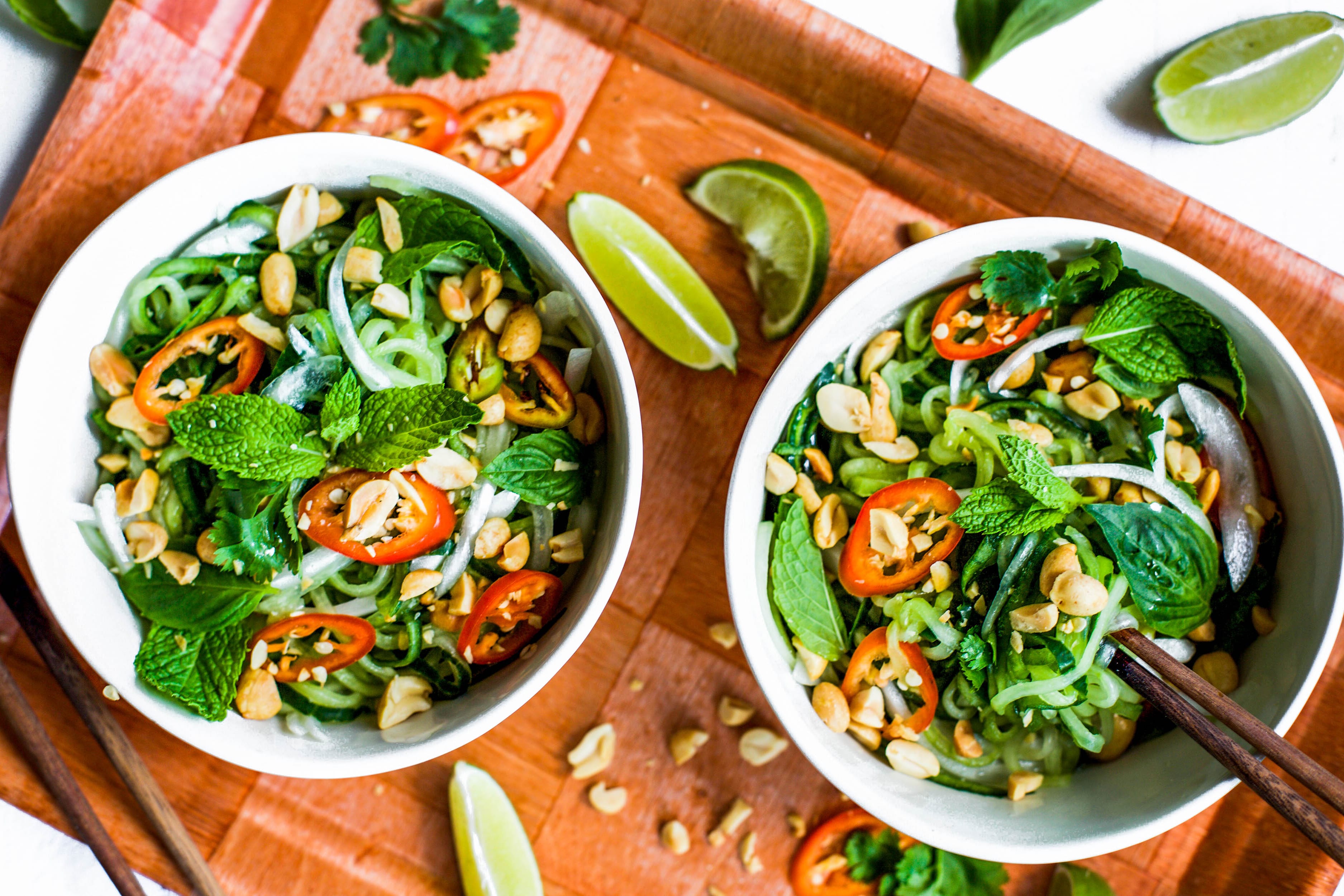 Spicy Asian Cucumber Noodle Salad is the perfect side dish or main dish. Luscious Seedless Long English® Cucumbers make the crispest cucumber noodles, which are so fun for this salad!
This recipe will be a surprise to all! These unique pizzas are great for the vegetarians and vegans in your life! Honestly, with the flavor that the Heavenly Villagio Marzano® leaves in your mouth, even the carnivores will be heading back for more of these little treats!
These rolls featuring our Cheeky Sweets® Mini Sweet Peppers and Scrumptious Mini® Cucumbers are so fun to make, and they look so impressive, don't they? You would probably think that these will take a while to make, but actually, they just take minutes. Yes, minutes! The most time-consuming part of the whole recipe is prepping the ingredients. Then you just fill, roll, and serve!
This Grilled Corn, Tomato & Avocado Salad with hemp seeds screams everything summer and is filled with refreshing flavors. The sweetness of the Maverick Mix® tomatoes and the creaminess of the avocado creates a luscious burst of mouthwatering goodness.
Gemista (Stuffed Tomatoes & Peppers)
Our Juicy Beefsteak® tomatoes and Sweet Bells® Peppers are the perfect vessels for deliciously moist herb feta rice. The roasted stuffed tomatoes encapsulate a rustic charm while the roasted peppers provide a lovely mellow fruitfulness that perfectly complements the tangy tomatoes.
Print