2019 is moving right along, and Valentine's Day is almost here. There are plenty of folks who are somewhat cynical about Valentine's Day. They think it's cheesy and just a way for the card stores to make extra money. Well, there may be some truth in that, but it's also a perfect excuse to do something a little 'extra' special with your significant other, or that dear friend you just don't spend enough time with.  We are both a couple of romantics, so we choose to honor the day by doing something special with each other. As you might expect, we find one of the most lovely and enjoyable ways to make Valentine's extra special is to create an extra special meal.
Get some nice wine. Put on your favorite song list: (Wesley loves 80s dance music, which will have to do). And together, prepare a meal that you'll remember yearlong. That's why we've partnered with one of our favorite vegetable providers of all time: Village Farms. Showcasing their fresh greenhouse grown tomatoes will bring these V-Day dishes to amazing heights.
Let's start off with a show-stopper appetizer. Our Grilled Oysters with Roasted Tomato Compound Butter. That's followed up by another stunner: Our Seared Ribeye with Blistered Tomatoes and Bordelaise Sauce.
Grilled Oysters with Roasted Tomato Compound Butter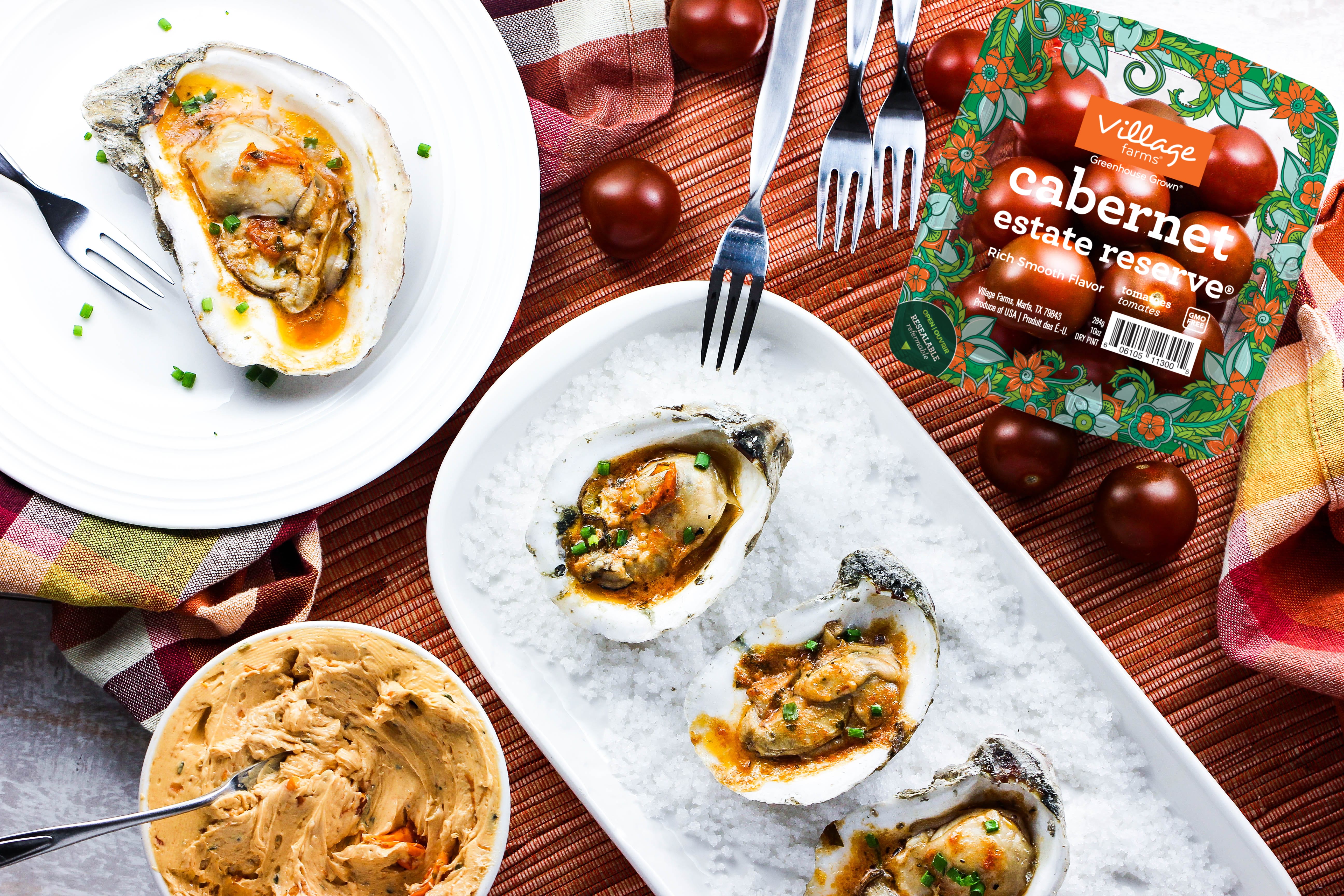 Oysters are just down-right sexy and ideal for a special Cupid Day dinner. We love raw oysters, no doubt, but if you've never tried grilled oysters, man, oh man, are you both in for a culinary gem. Use an oyster knife, or even a small screw driver, and shuck the oysters at home.  It takes a little elbow grease, but is actually kind of fun to do together, and you can be sure that none of the delicious liquid inside the fresh oyster is lost.  In a pinch, have your fish monger shuck them for you.  Just be careful transferring them home!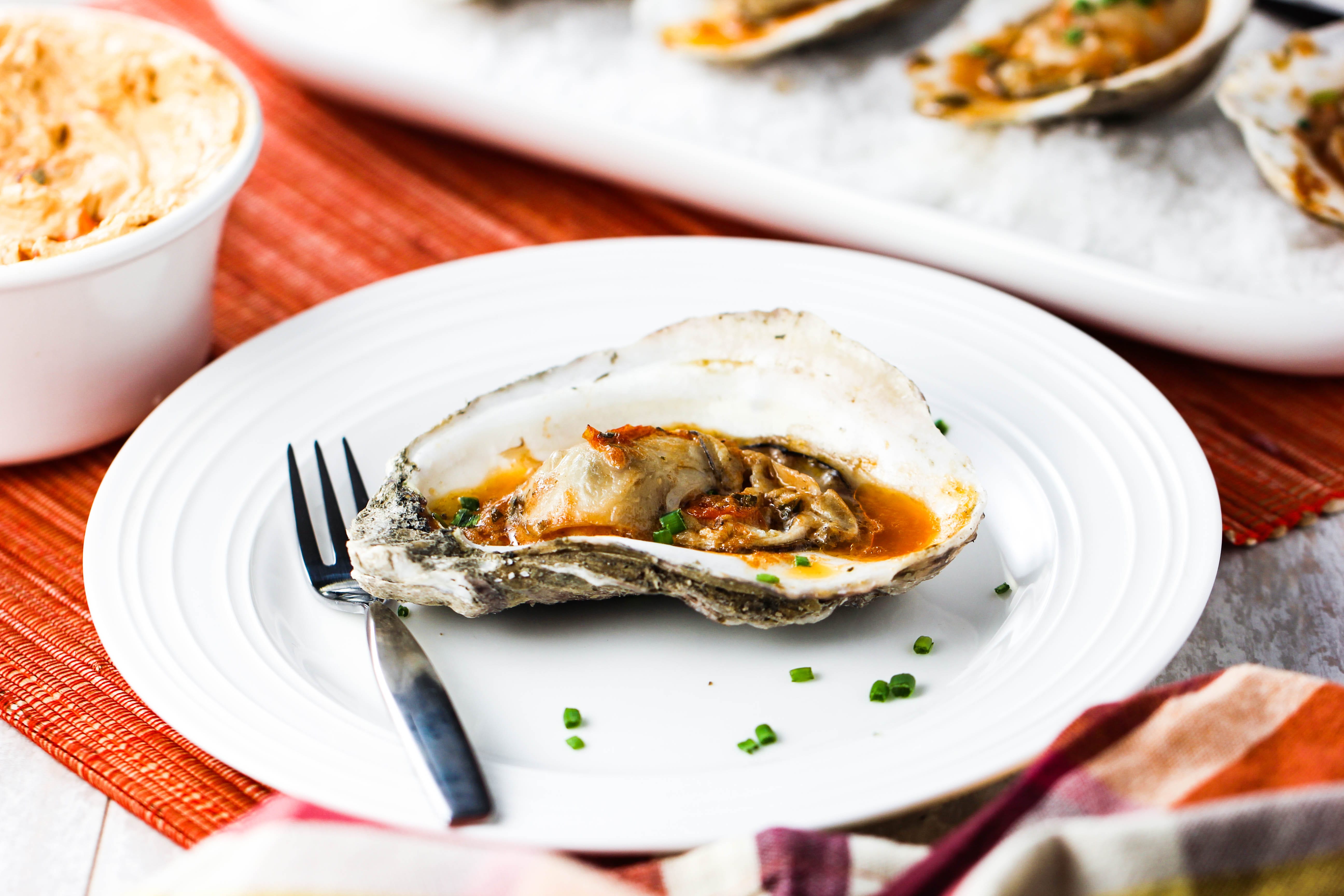 We can't rave enough about Village Farm's Cabernet Estate Reserve® Cherry Tomatoes. The tomatoes are a beautiful red wine color, and the taste is rich, crisp and slightly sweet. Roasting  them heightens the taste even more. And then combining them with herbs, balsamic vinegar and butter is heavenly. A generous dollop of this roasted tomato compound butter on top of the freshly shucked oyster is all that's needed before grilling for just a matter of minutes. This appetizer is stunning in appearance and unmatched in taste.
Seared Ribeye with Blistered Cherry Tomatoes and Bordelaise Sauce
The only entree that we can think of that will be a fitting V-Day follow-up to those amazing Grilled Oysters with Roasted Tomato Compound Butter is a beautiful marbled steak, topped with incredible blistered No. 9 Cherry Tomatoes, combined with herbs and olive oil and topped with a luscious homemade French classic bordelaise sauce.
We love to finish off the tomatoes by placing them under the broiler to give them just a little char. A perfectly cooked ribeye steak, thickly sliced, is the perfect vehicle for these rich and deeply flavorful tomatoes. The homemade Bordelaise sauce, a red-wine and demi-glace reduction, puts the entire dish over the top.
This Valentine's Day, we hope you take Cupid by his bow and arrow and make these two amazing dishes.  May it be filled with delicious memories and a love that carries you through the year!
Recipes and blog were created exclusively for Village Farms by Kris and Wesley from How to Feed a Loon
Print