Memorial Day is a great time to gather with family and friends, share stories from your past, express gratitude, and eat delicious food together. We have selected some of our favorite summer recipes for you to enjoy.
Grilled Cioppino Foil Packets are perfect for warm summer nights complete with a crisp glass of your favorite white wine! Our Cherry no. 9 Fall in Love Again® tomatoes are transformed into a luscious sauce that is a delicious base for lots of fresh seafood! These Cioppino foil packets are packed full of flavor and your guests are going to flip over how tasty and beautiful they are!
---
Grilled Portobello BLT "Pizzas"
Okay, folks… let's do something a little unexpected. It's time to think outside the crust and swap pizza dough for large Portobello mushroom caps. Top with crispy pancetta (for the bacon) and gorgeously sliced Heavenly Villagio Marzano® tomatoes and grill to absolute perfection.
---
Sweet Bell Pepper Slaw with Mango
Nothing could be easier than a Simple Sweet Bells® pepper slaw. Just toss everything together and you're done! Serve as a side dish with grilled fish or chicken, or as a filling for fish tacos.
---
Stuffed Sensational Sara Snacks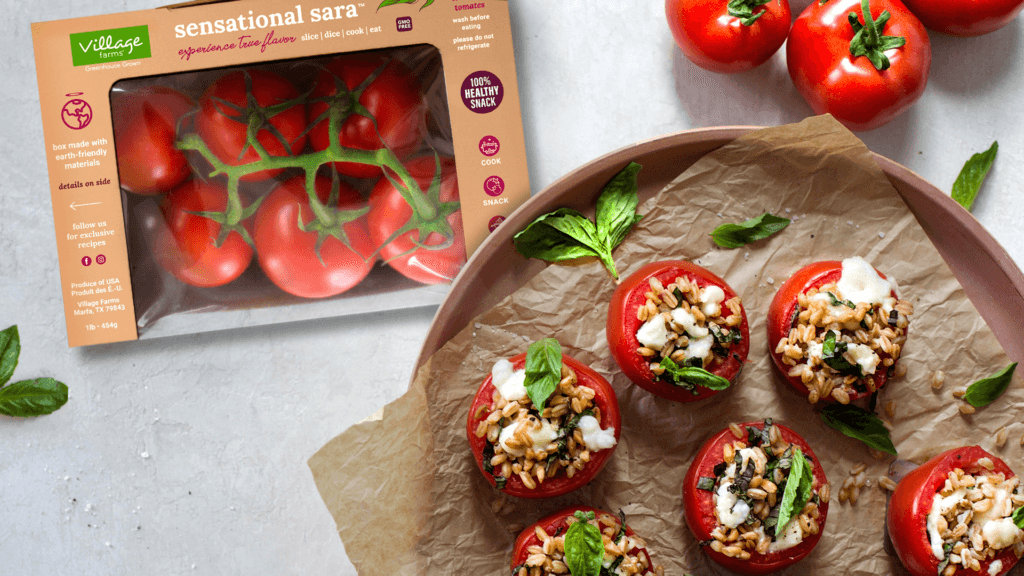 This recipe is perfect as a side dish, an easy appetizer for entertaining, or to serve up with a leafy green salad. These gorgeous Sensational Sara® tomatoes are the perfect size for stuffing, and this Caprese farro salad is so good inside. It's all of your favorite Caprese flavors packed into the cutest tomato package and then grilled for a few minutes for a little smokey flavor that takes it to the next level.
---
Cucumber Dragon Fruit Margarita
This Luscious Seedless Long English® Cucumber Dragon Fruit Margarita is simple to mix up, but dazzling! Using the cucumber puree in the drink lightens it up a little so it isn't quite as strong as a normal margarita and gives it a fresh flavor too.
---
Caprese Salad with Grilled Peaches
Let's start the party right with everyone's favorite summertime salad: Caprese salad. But let's up the ante and include the sweet and savory taste of grilled peaches along with Village Farms Sinfully Sweet Campari® tomatoes, fresh mozzarella, and basil, topped with a balsamic reduction. Yum.