This homemade white cheddar mac and cheese with tomatoes is comfort food at its finest, featuring a silky cheese sauce and roasted cherry tomatoes.
Do you have a loved one far away who will be home for the holidays? This time of year, families are coming together from places all over the globe and gathering around the table. My sister and her husband are coming home this year: all the way from Thailand! They'll be flying literally halfway around the world to come to Alex and my kitchen. If you have loved ones far away, you'll know that special feeling of reuniting together around the table. With my sister here, we've been brainstorming some cozy celebration foods to serve her, and we came up with this white cheddar mac and cheese with tomatoes recipe!
Roasted Tomato White Cheddar Mac and Cheese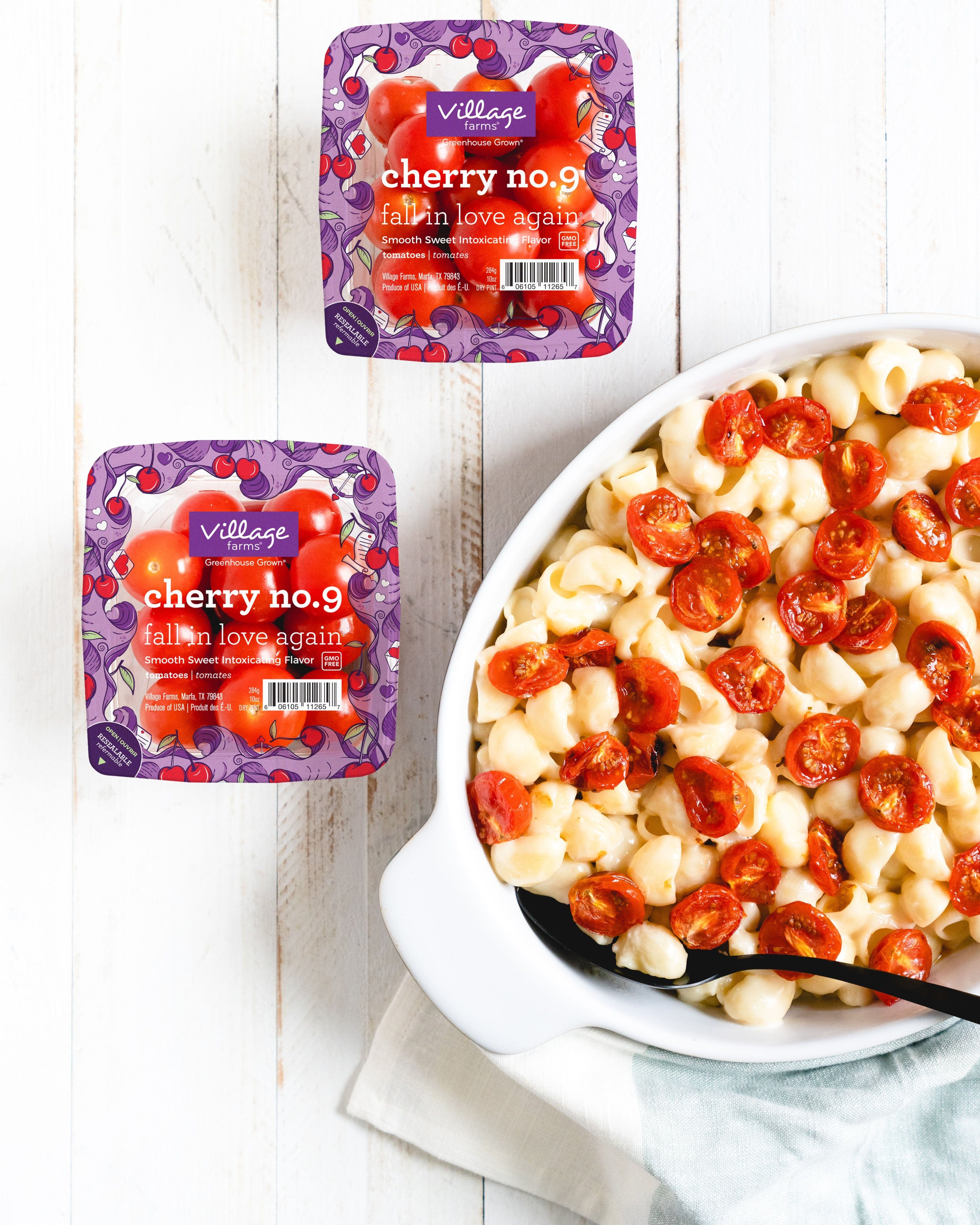 With families reuniting this time of year, we're all looking for those perfect dishes to warm tummies and hearts. And it's hard to argue that there's a better comfort food than good old mac and cheese, right? Alex and I have created this sophisticated spin on mac and cheese using the sumptuous combination of roasted tomatoes and white cheddar cheese. It's a guaranteed crowd pleaser for adults, and you'll even be able to sneak in a few veggies for the kiddos during this sugar-filled season. Keep reading for our roasted tomato white cheddar mac and cheese recipe!
How to roast cherry tomatoes
Usually Alex and I wouldn't be roasting fresh tomatoes to go with a cozy comfort food dish like this white cheddar mac and cheese. However, Village Farms is a brand of greenhouse grown tomatoes that is gentler on the Earth and farmed without pesticides. Since these tomatoes are grown in greenhouses, they are available year around and truly taste garden fresh no matter what the season. To add a spin (and a pinch of health) to our white cheddar mac and cheese, we added Village Farms Cherry No. 9 Fall in Love Again® tomatoes. The sweetness of the tomatoes is the perfect juxtaposition for the sharpness of the white cheddar cheese.
How to roast cherry tomatoes? There are several different ways: slow roasting cherry tomatoes over a few hours turns them into dried out sundried tomatoes. For this white cheddar mac and cheese, we wanted to roast the tomatoes just enough so they hold their shape, but not so long that they dry out. To roast this variety of cherry tomatoes, the best method is to coat them with olive oil, add a pinch of salt, and roast at 350F for about 40 minutes. We tested roasting the cherry tomatoes with the cut side up and cut side down. Roasting with the cut side down chars them a bit more and brings in a sundried tomato vibe, but they do lose their shape more. Roasting the tomatoes with the cut side up helps them keep more of their shape and still brings in a lovely concentrated tomato flavor. You decide!

Food is the focal point when we gather together, especially during the holiday season! Many of our recipes here are designed to be high vibe healthy; others are comfort food made with real food ingredients. This white cheddar mac and cheese is a true gem: several friends helped to taste test and gave it 5 stars! The sharpness of the white cheddar cheese brings a sophistication, and the contrast of the bright roasted tomatoes is an unexpected flair. One nice feature to this mac and cheese with tomatoes is that it doesn't require baking time: simply make the mac and cheese, top with roasted tomatoes, and serve! This recipe will be part of our entertaining menus for years to come. Alex and I could not get enough of that silky white cheddar sauce against the tangy tomatoes! It's a keeper in our house.
Recipes and blog were created exclusively for Village Farms by A Couple Cooks
Print