by Lori Yates, Foxes Love Lemons
OK, so before I even talk to you guys about this recipe, please know that my husband is trying to make the word "ravilachos" happen. He doesn't think "ravioli nachos" is catchy enough, and he just really, really wants everybody to call these "ravilachos." Now that we've gotten that out of the way . . .
Why did I create ravilachos? THERE I SAID IT. I knew that Epic Game Day MUST have nachos. But, I was having trouble thinking of a creative topping idea. So, what if I swapped the chips for . . . something else? I've seen breakfast nachos made with waffles, so people have already branched out from the typical tortilla chips. I slept on it, and when I woke up in the morning, the words "toasted ravioli nachos" were dancing on my brain.
I wasn't sure how well the ravioli would stand up as the "chip", but Jeff convinced me to give it a try for dinner one night (twist my arm), and it actually worked really well. You COULD eat these with a fork, but you can also totally eat them with your fingers, too. As long as you get the ravioli nice and toasty before assembling the nachos, they're sturdy enough to hold up to all the toppings!
Recipe: Toasted Ravioli Nachos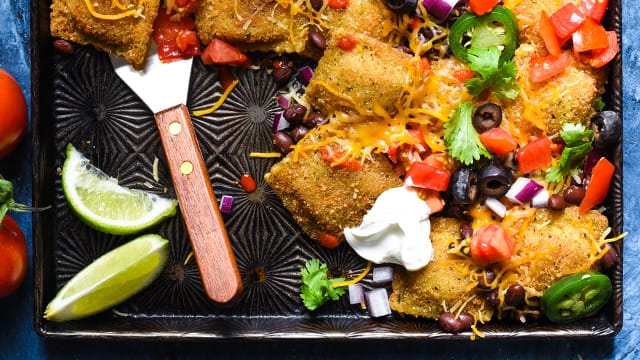 Speaking of the toppings, the gang's all here. All the nachos fixings you could need or want, because I like my nachos LOADED. The meat is inside the ravioli (I used beef-filled toasted ravioli), but you could also use cheese ravioli to make these vegetarian. I'll be honest and tell you that the black beans kind of roll around a bit, so if you're set on eating these with your fingers, I would substitute refried beans.
If you ask me, a pan of nachos simply isn't complete without a generous sprinkling of juicy tomatoes. These campari tomatoes add moisture to the dish (as the breading on the raviolis can be dry), and they add a nice hit of sweet acidity, too. Here, I used Village Farms sinfully sweet campari® tomatoes. They're a little bit larger than a cherry tomato, but not huge – the perfect size for chopping up for nachos. They're great in salads, on sandwiches, for making marinara sauce, and oh, FOR RAVILACHOS. Alright, maybe it is sort of catchy.
This post originally appeared on Foxes Love Lemons.
Print