As we celebrate Women's History Month, we recognize the stories being played out in real-time by women within the field of agriculture where men have traditionally presumed predominant roles. Women contribute to the field of agriculture and support through a vast array of essential roles. And the opportunities for women are literally "growing" within this field.
At Village Farms Fresh, we are proud to acknowledge the numerous contributions of the women in our organization. Our commitment to sustainable and responsible farming is strengthened by the leadership and empowerment of these women at all levels in our organization, from the greenhouse to the boardroom. These women drive innovation and spearhead initiatives that promote our mission to produce fresh and healthy fruits and vegetables that feed a growing nation.
We spoke with several women from the Fresh division to find out what led them to pursue careers in agriculture. What we discovered was not only what motivates these amazing women, but what inspires them each day to be the best they can be. I hope you enjoy reading the stories they have shared.
---
Baldeep Sidhu
Labor Administration Clerk | Delta, British Colombia
"Growing up in a tight-knit agricultural community, farming has always been in my blood. My father, grandfather, and great-grandfather all dedicated their lives to the trade, and as a result, our family has worked tirelessly on 50-60 acres of farmland for generations.
My journey began at a hothouse and led me to Village Farms, where I've been an integral part of the company's success for 24+ years. What I cherish most about my job is collaborating with people from diverse backgrounds, including those with language barriers. I'm proud to act as a liaison between our Indian workers and the rest of the team, ensuring clear communication and teamwork toward shared objectives.
Managing payroll and building strong relationships with our greenhouse laborers are also part of my fulfilling role. And the best part? Doing all of this close to home, surrounded by those I love in a vibrant and dynamic industry."
---
---
---
Patti Smith
Vice President, Corporate Controller | Lake Mary, Florida
"It's kind of funny – agriculture has been a big part of my life. I grew up working on a farm. Through college, I worked at a vegetable canning factory. After graduating from college, I began my career with a produce company, and now, I aspire to end my professional journey at Village Farms. In my current role, I am entrusted with the vital responsibility of overseeing the controllership and financial reporting activities of our company and all its subsidiaries.
Agriculture and produce are universal – a part of everyone's life and I like being a part of that."
---
---
---
Taylor De Leon
Quality Control & Sales Administrator | Fort Worth, Texas
"I started my journey in the agriculture business working at Albertsons in the grocery department, and I found myself drawn to the intricacies of the ordering process, assisting buyers with product orders, and preparing weekly reports. However, it wasn't until I joined Village Farms four years ago that I truly found my calling in the industry.
What I love most about my job is the opportunity it provides to collaborate with multiple departments across the company. Through collaboration, I've gained an appreciation for each step of the process that works to bring our products from the greenhouse to our customers' hands. This understanding has instilled a sense of pride in me for our high quality, our brand, and our contribution to the world of produce.
As part of my role, I handle sales orders, provide information to customers and shippers, and develop apps for our quality team. I'm always seeking ways to streamline and improve our paper-free food safety and quality processes, and building apps is a key part of this effort. I'm inspired in knowing my unique contributions are making a difference for the company."
---
---
---
---
---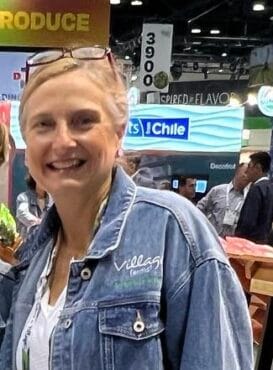 Meredith Reilly
Director, Sales Administration | Montclair, New Jersey
"I started in the agriculture business through greenhouse supply, working for a company that sold to greenhouse growers. Now, I've been in the business for 28 years, 20 of which have been spent at Village Farms Fresh.
At Village Farms, it brings me great joy to be part of a team that produces
and delivers fresh and healthy produce to consumers while having a
comprehensive understanding of the entire seed-to-plate process and the
associated challenges.
Witnessing our products on display in nearby grocery stores is also
gratifying, but what I find most fulfilling are the wonderful individuals who
make up the Village Farms community that I get to work with every day.
Every day, I'm involved in fulfilling customer and sales team needs, working closely with food safety, IT, shipping, operations, and accounting to ensure that we meet all requirements, from production to delivery."
Diane Strohm
Director, Sales Administration | New Jersey
Diane is a Village Farms veteran; she has advanced her skills as a Sales Administrator with the company for thirty years. She is well-versed in everything from business planning to sales operations management, and from warehouse operations to transportation management. She credits her team of peers for motivating her to fire up her computer every morning and her hard-working parents for instilling the importance of a strong work ethic and the value of independence.
Diane is also extremely grateful that the flexibility of her role has allowed her to live out her dream of traveling and exploring the world with her husband. Her favorite destination so far has been St. Lucia, but Italy certainly is a close second. She jokingly shares that her hidden talent is making wine disappear.
If Diane could go back in time, she would tell her childhood self to: "Move past the fear of going after what you want out of life…choose a career that you love, choose your soulmate wisely, and own the mistakes you're bound to make."
Abigail Lange
Facility Manager | Marfa TX, Greenhouse
Abby's love of farming began early in her childhood, growing up with her dad harvesting fruit trees, berry bushes, vegetables and herbs in their home garden, a passion which led her to study Horticulture at the University of Missouri. This is where she was presented with the opportunity to join the Village Farms' greenhouse team.
She started her journey as an Intern, and in her time there, worked her way up the ladder, all the way to Facility Manager. Abby loves the diversity of her role and that there is always something new to think about. She spends her days in the greenhouse doing everything from labor to Integrated Pest Management, and from packing orders to maintenance. The very first thing she does to start her workday is checking in on the greenhouse climate and cruising a few rows to see how the plants are growing. She equates a successful and productive day to when she has given it her very best and has no regrets.
When she's not in the greenhouse, you can find her working in her home garden—she laughs and admits she has a serious plant addiction. Abby also enjoys hiking, grilling on the barbeque and crocheting. What a lot of people might not know about Abby is that she also revels in upscaling vintage clothing and giving aged styles a fresh new look. If she could give her younger self some advice, it would be to: "Have faith and don't stress. Even when you're facing a situation that seems big and daunting, there's a way to transcend and come out wiser. Just focus on finding that way."
Print