It's the most wonderful time of the year.  The time where friends and family come together around a table and share a special meal that is prepared with love.  We get to reflect on the past year and all that we are thankful for. It's the time where I am always reminded how quickly each year passes and how I want to soak up more moments spent with those I love the most, which is why I wanted our last Supper Club of the year to be a special Friendsgiving.  This week will be all about sharing what we are thankful for, yummy food of course, and I will also be helping to get you prepared for your own Thanksgiving and Friendsgiving celebrations. I partnered with Village Farms to bring you two must make recipes this holiday season. My Autumn Panzanella Salad with a Citrus Sage Vinaigrette and my Tomato Cobbler with Cheddar Thyme Drop Biscuits are going to wow your guests and add a little something special to your holiday table.
If you are new here, and are asking yourself what is all this talk about a supper club?  Well, let me tell ya. This is our third, and final, Supper Club of the year and it truly is such a fun week we can spend together (virtually of course), but it's a time where I get to connect with each of you in a new way!  We hang out over on my Instagram page where I demo each recipe live and you get to chat one on one with me and other women around the country! This year, I will be answering all questions holiday prep, recipe, entertaining, and more!  It's going to be helpful and fun I promise you!
Now on to the food…
While I love a good turkey on Thanksgiving, the sides are the reason that Thanksgiving dinner is maybe my favorite meal of the year!  I love the traditional side dishes like sweet potato casserole and stuffing, but this year I'm adding two new ones to the menu that are definitely going to become staples from here on out!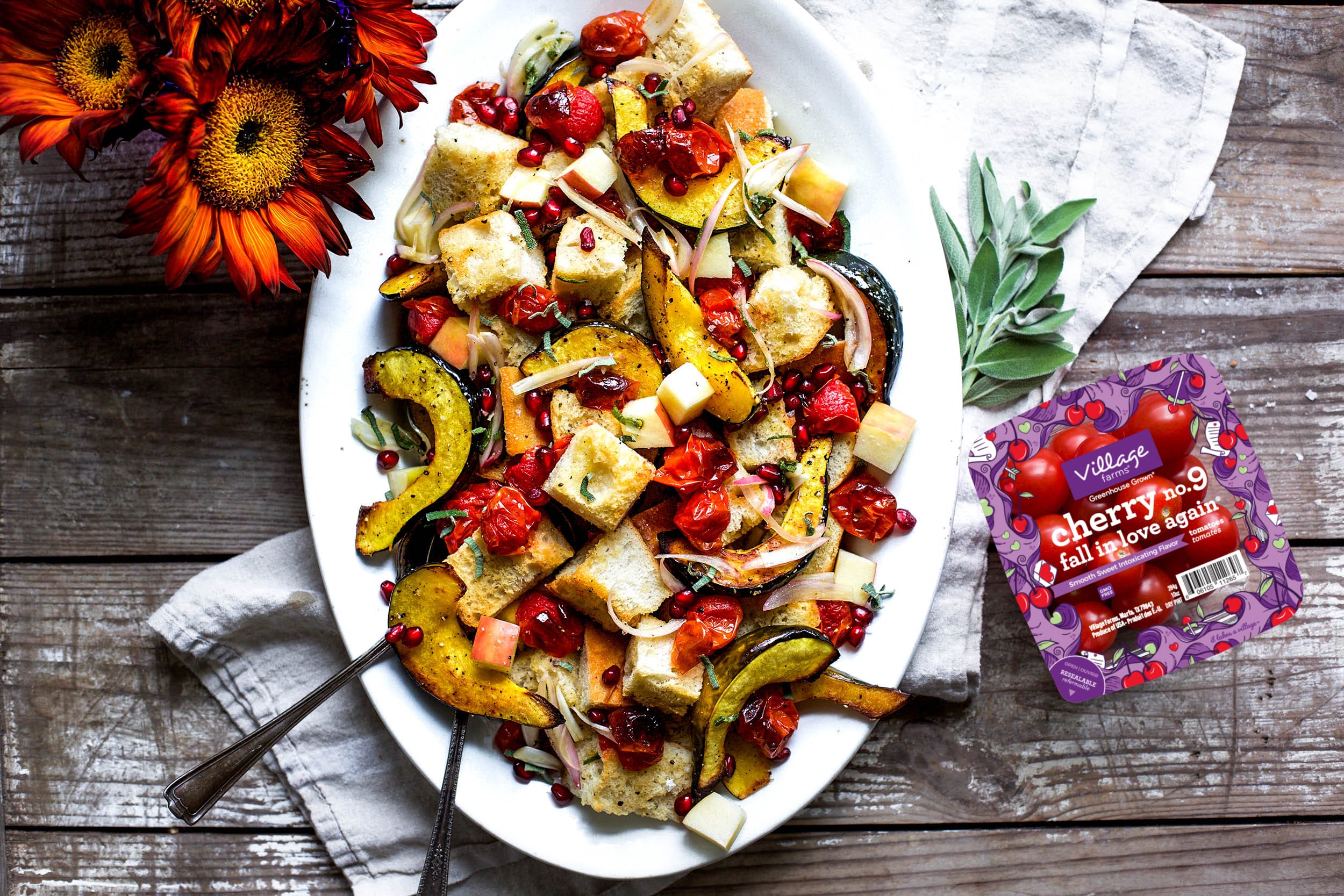 The first recipe that I'll be sharing with you is my Autumn Panzanella Salad with a Citrus Sage Vinaigrette.  A panzanella salad is basically a bread salad, I mean who wouldn't love a salad that has a bread base right? I did my own twist on a classic panzanella salad and roasted up some gorgeous fall veggies including Village Farms  Cherry no. 9 Fall in Love Again tomatoes and then tossed it all together with a citrus sage vinaigrette that is amazing! The salad is full of my favorite fall colors and couldn't be any more stunning of a presentation. The recipe is easy and you can prep ingredients the day before, which I am all about when preparing for a holiday meal.  I promise you are going to love it!
The second recipe that I'm going to be whipping up is my Tomato Cobbler with Cheddar Thyme Drop Biscuits!  OMG. Y'all this recipe is amazing! I used Village Farms Heavenly Marzano Tomatoes and make a tomato base that is perfect for cheddar thyme biscuits right on top!  This recipe is the ultimate cozy holiday food and would be a great side to any holiday menu! I could even see leftovers being served as breakfast with a couple of fried eggs!
YUM!
Make sure to tune in Tuesday, November 19th and Thursday, November 21st to catch me live and get to know each other more!  Bring all of your holiday menu questions, holiday favorite traditions, and anything else you want to chat about! I can't wait to "see" you there!
Recipes and blog were created exclusively for Village Farms by Leigh Ann Chatagnier from My Diary of Us
Print