When we think of the holiday season, our minds go straight to thoughts of freshly baked cookies, lights on every house, gifts, holiday music and festivities. This year, we want you to add tomatoes to your holiday plans! With their beautiful red color, tomatoes are perfect for adding flair to holiday recipes.
We've come up with some simple ways to have fun (and stay healthy) this holiday season. There's something for everyone in this holiday series of recipes featuring the Garden Fresh Flavor® of Village Farms® tomatoes. Kids will enjoy trimming their tree with tomatoes with our spin on mini pizzas and they'll light the way to a healthy meal as they place a tomato for Rudolph's nose on a delicious tomato grilled cheese.
Adults strapped for time will love the surprisingly simple and delectable twist on savory finger foods. With only a few ingredients each there's no need to check your grocery list twice! Known for being packed with vitamins C and K and lycopene tomatoes are a great way to support brain health. So relax and allow yourself the treat of extra family time this season.
Scroll all the way down to find out how you can enter to win a variety pack of Village Farms tomatoes delivered right to your doorstep!
Mini Christmas Tree Pizzas with Maverick Mix® Tomatoes
Move over Christmas cookies, let kids get creative for the holiday season with these fun pizzas. Plus, sneak more veggies into your kid's diet. Maverick Mix® tomatoes pose as colorful lights/ornaments for decorating. Cue the classic holiday music!

Rudolph Grilled Cheese with Heavenly Villagio Marzano® Tomatoes
Rudolph the Red-Nosed Reindeer had a very shiny nose…and it's a bright red tomato! The sweetness of the Heavenly Villagio Marzano® tomatoes dances like sugar plum fairies inside this Rudolph grilled cheese, paired with a homemade tomato soup, for a comforting and festive meal to eat while watching the classic movie.
Tomato, Feta & Pesto Puff Pastry with Sinfully Sweet Campari® and Fresh Basil
Sinfully Sweet Campari® tomatoes pair with pesto, basil and feta cheese to create this combination of red, white and green, bringing a colorful spin to any holiday party. Puff pastry is simple to use and the result is an elegant dish with little effort. Ugly Christmas sweaters optional.
Tomato, Goat Cheese & Caramelized Onion Mini Quiche with Cabernet Estate Reserve® Tomatoes
Be careful! Once you present these mini quiches featuring Cabernet Estate Reserve® tomatoes to holiday guests, they'll disappear fast. The sweet, earthiness of the tomatoes paired with flavorful caramelized onions and the creaminess of goat cheese is an unbeatable combination.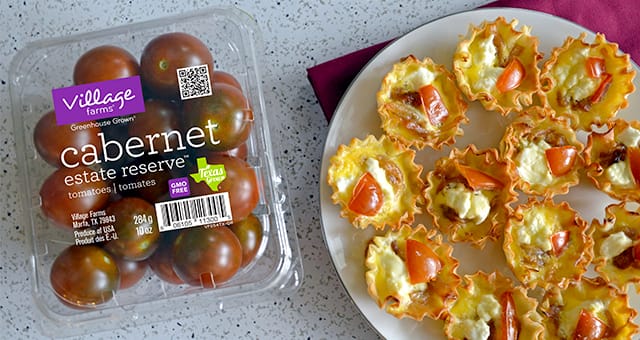 Okay, now that you're nice and hungry let's talk about that chance to win! We're partnering with Village Farms to give you TWO chances to win some really great prizes:
Chance #1 – Fill out the form below!
Chance #2 – Join us on Instagram December 20 – 22 for an Instagram giveaway. Be sure to follow Produce for Kids and Village Farms on Instagram for all the details.
This post and recipe were created exclusively for Village Farms and originally appeared on Produce for Kids. 
Print