Recipes and photography by  Lunches + Littles
For most of us those long summer days are a thing of the past, and the cozy sweaters, boots, crunchy leaves and warm dishes are now making their way into our days- and nights. Yep, Fall is here and certainly in the air.
And, we are all about a cozy dish in our kitchen. There is just something about putting your hands around a warm bowl of soup or chili or taking a bite of a dish that boasts all of the seasonal flavors. Can't you just taste it?
And just in time for all things Fall- we were so excited to once again partner with Village Farms to create two totally different dishes- both inspired by our favorite season.
First up, we are sharing our take on chili; our Homemade Turkey Chili with Butternut Squash Noodles. This dish features the Sinfully Sweet Campari® Tomatoes from Village Farms in place of traditional canned tomatoes that the majority of chili recipes call for, and the difference of fresh in this dish is truly a-mazing. Our chili is full of vegetables, hearty and oh so cozy, and the butternut squash noodles add such a seasonal touch- and look.
Doesn't it look delicious? And, it's easy too. We love cooking up a large batch of chili for dinner- and having leftovers for the next few days. Yum. Another great thing we love- all of the goodness you can pack into a dinner like chili. We have celery, onion, squash, garlic, carrots, tomatoes, and more in this tried and true family favorite.
Oh, and the Sinfully Sweet Campari® Tomatoes are perfect for this one- they are a cocktail-size tomato with the perfect combination of sweetness and acidity, and work splendidly in chili, homemade pasta sauces, and more.
Turkey Chili with Butternut Squash Noodles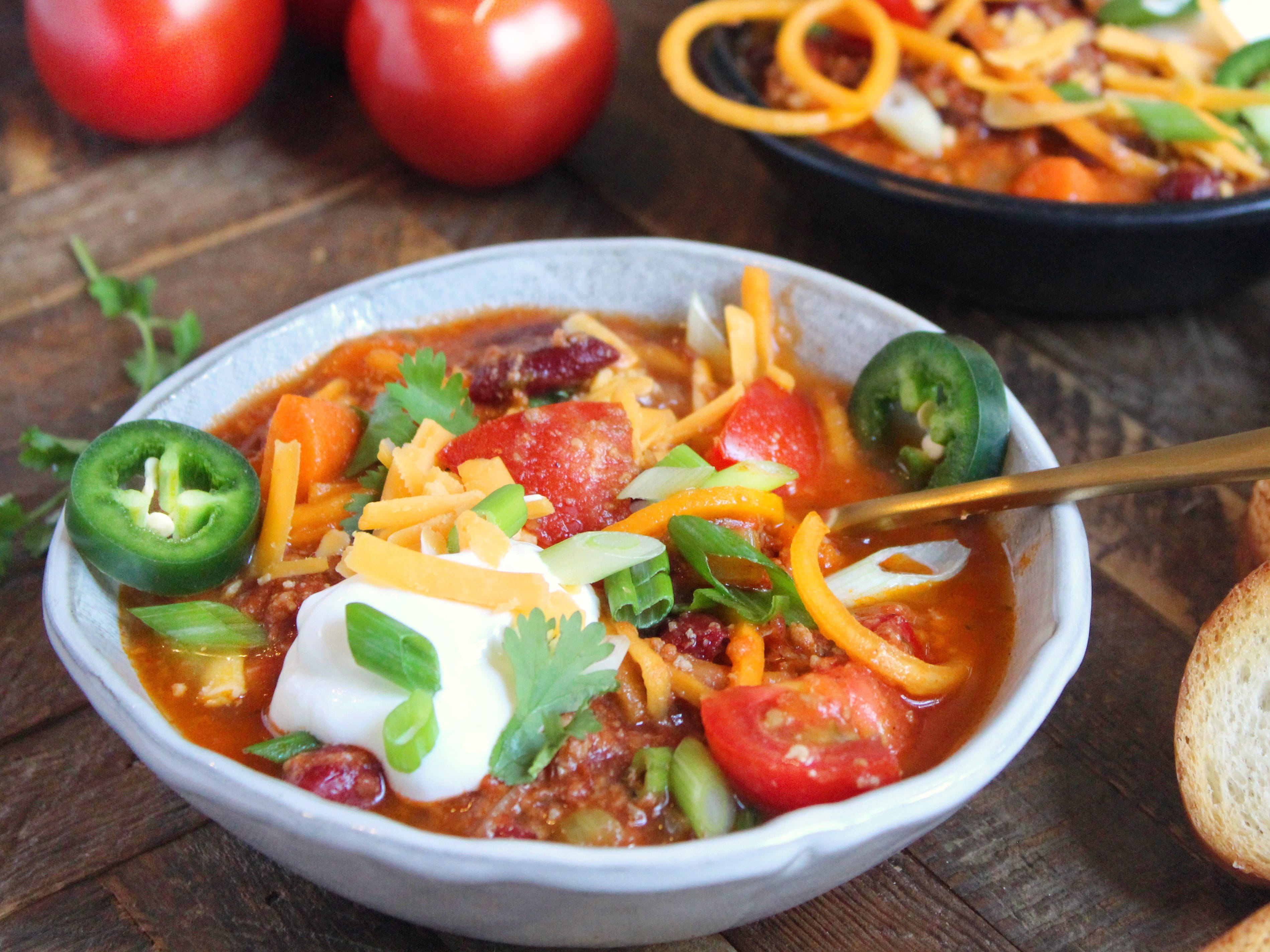 Another dish we've been loving lately is a brand new one for us- our Autumn Pasta Bake featuring the Heavenly Villagio Marzano® Tomatoes. We have used these tomatoes before in a variety of recipes, and they never disappoint- these beauties boast an incredibly sweet flavor and are perfect baked into this dish (though, we all love eating them straight out of the package too!).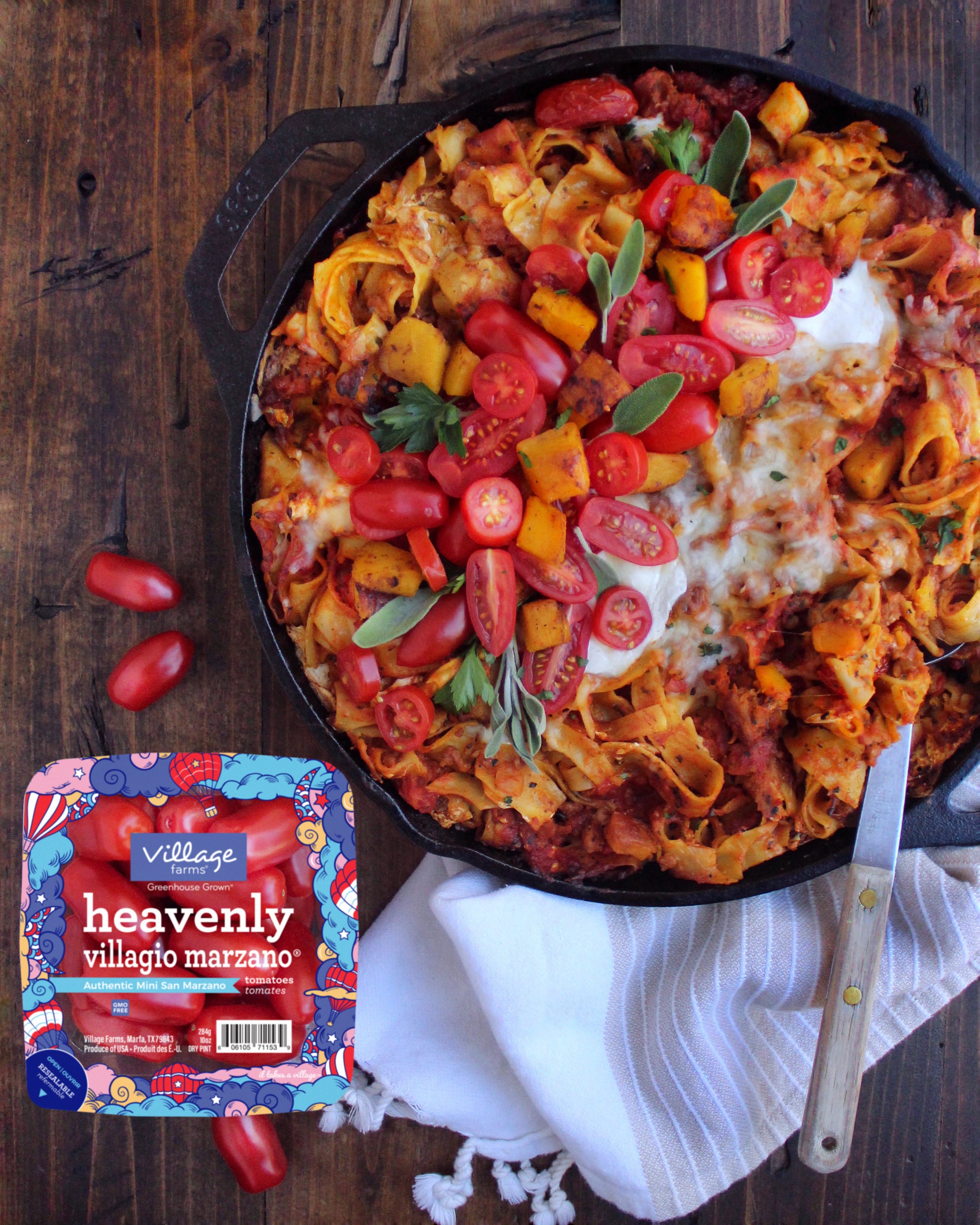 And, since it's Fall: let's talk pumpkin. In our house roasted pumpkin never lasts long- it is so good, and we were so excited to work it into this recipe. There is just something incredibly cozy about a pasta bake and the amazing, seasonal flavors in this one takes it over the top. With a homemade pumpkin tomato sauce, assorted cheeses and then blistered tomatoes, sage leaves and roasted pumpkin pieces sprinkled on top- our Autumn Pasta Bake is a must-make; a great dish for a weeknight dinner, but also one that would be perfect for entertaining guests too- especially as we begin to approach the holiday season.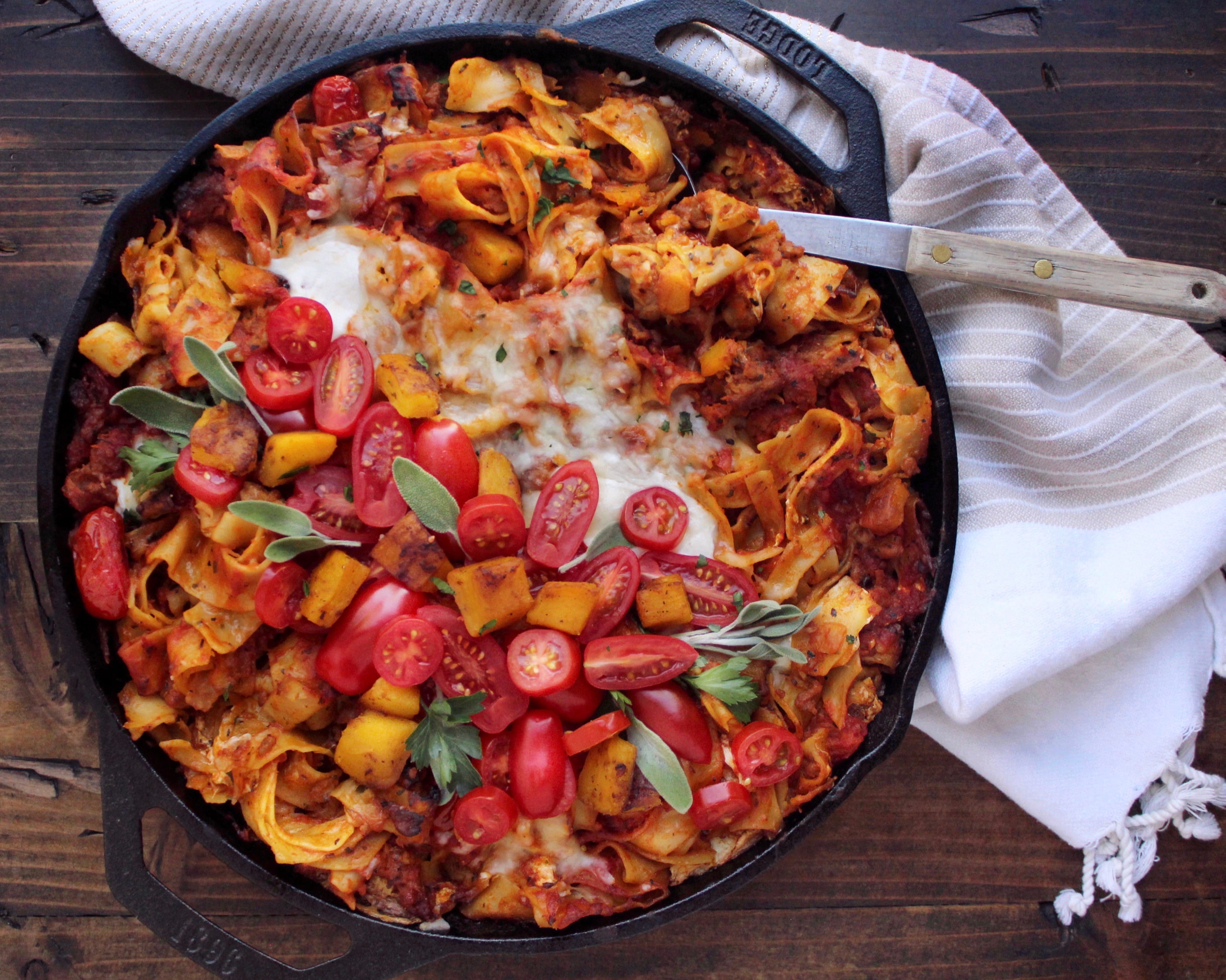 When it comes to Fall, you just can't beat cozy recipes like these, and we hope that you will give one- or both a try! They are both so perfect for the colder weather and highlight one of our favorite brands; Village Farms.
Recipes and blog were created exclusively for Village Farms by  Lunches + Littles
Print