My family has a tomato obsession. We pop them like treats all hours of the day, but the latest batch we got was next level amazing. I had to hide a stash on the top of my fridge so they wouldn't all get eaten before I could make something fun out of them!
My husband couldn't stop raving about these Village Farms Maverick Mix® (formally known as True Rebel Mix) tomatoes. "They're the sweetest most delicious tomatoes," he said. "How is this even possible?" He wondered aloud. I get it, man. Once I tried them for myself, I couldn't get enough.
While we are all perfectly happy eating them as is, dipping them in hummus and dressings, I wanted to take it one step further and make something special with them. I just HAD to experiment.
So, I made some salsa. It was the first time I ever made salsa. And, friends, why have I never made homemade salsa before? Ah, it's so fresh and so tasty and SO flavorful! It's a salsa experience on a whole new level, I tell ya!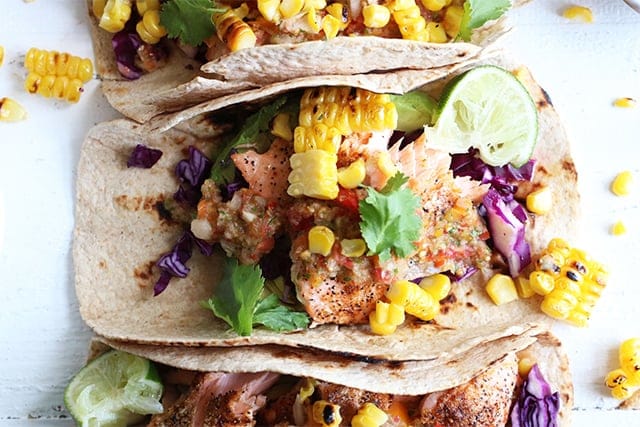 After making this salsa and dipping alllll the things I could into it, I decided to make some tacos that could complement the fresh flavors. Today we're making some fish tacos, my friends!! I decided to go for salmon tacos because salmon is so accessible and easy.
For me, fish tacos are one of those items I always order at a restaurant and never make at home. They always just feel so special occasion to me, but after I made this recipe, I realized that they're actually super simple to make and make for the perfect #TacoTuesday or #FiestaFriday.
So, without further ado, let's get into this fun recipe for Salmon Tacos with the best darn homemade salsa you've ever tried.
Salmon Tacos with Homemade Maverick Mix® Salsa Recipe
Place the salmon on a lined baking sheet and drizzle with avocado oil. Sprinkle each filet with the cumin, garlic powder, chili powder, ground pepper, and sea salt. Bake in the oven for 12 – 15 minutes until the salmon is no longer translucent and is opaque. When it's done cooking, use a fork to break the salmon up into large chunks.
While the salmon is cooking, brush your corn with avocado oil and sprinkle with sea salt. Turn the grill on high until heated. Place the corn on the grill and turn it frequently until it's charred, it took me about 5 minutes. You can also do this in a grill pan, or just boil it if you wish.
While you're there, you can also put your tortillas on the grill to heat them up and toast them a bit. But, they do brown quickly, so be vigilant!

Make the salsa: combine all the salsa ingredients in the food processor. Process for about 5 seconds. Use a rubber spatula to scrape down the sides and process again until combined but still a little chunky. It'll be bubbly from the blending at first, but after it sits for a bit, the bubbles will go down.
This post and recipe were created exclusively for Village Farms and originally appeared on The Toasted Pine Nut.
Print