Memorial Day is an American holiday observed on the last Monday of May. It honors the men and women who died while serving in the U.S. military. Formerly known as Decoration Day, it originated in the years following the Civil War and became an official federal holiday in 1971.
To many it's also considered the unofficial start of summer. A time to enjoy the outdoors with friends and family when grilling season finally comes back into play. A time when seasonal produce starts growing strong and the farmers markets are far from scarce. There's nothing like serving up refreshing summer salads filled with fresh flavors alone or as a side dish to complement any BBQ.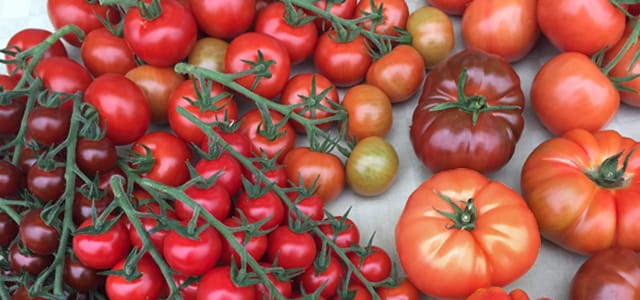 My love for Village Farms tomatoes is real. There are so many different vibrant and delicious types to choose from you just can't go wrong. With just the right amount of sweet and savory to level out my taste buds they are extremely versatile and filled with many health benefits. They are rich in lycopene and full of other essential nutrients and antioxidants. So really what's not to love? What even better….you aren't limited to seasonality. Village Farms grows in sustainable greenhouses so you can have the taste of summer all year-round.
A few tips for choosing tomatoes – I make sure they are firm and deeply colored with a sweet earthy smell. I store them at room temperature for the optimum flavor and lay the larger tomatoes stem side down to keep them fresher longer. I let them ripen so they are slightly soft, juicy and bursting with flavor in my dishes. One of my all-time favorite tomato pairings and a wildly popular meal addition these days is avocado. The sweetness of the tomato mixed with the creaminess of the avocado creates a medley of goodness.
Maverick Mix® Tomacado Summer Salad
Village Farms Maverick Mix® tomatoes are just right for this recipe because they contain a mix of 4 to 6 exclusive varieties each with a distinct shape and flavor and they create a beautiful and colorful presentation. They are hand-picked at the peak of flavor so each one is simply perfect.
This Grilled Corn, Tomato & Avocado salad with hemp seeds screams everything summer and is filled with refreshing flavors. The smokiness of the grilled corn, the citrusy burst of the lime, the fresh cool flavor of the cilantro and the nuttiness of the hemp seeds combined with the sweet tomato and creaminess of the avocado create a luscious burst of mouthwatering goodness. So grab a bowl and head to the pool – summer has officially arrived!
This post and recipe were created exclusively for Village Farms and originally appeared on Zest My Lemon.
Print