A little Meal Planning Love in the time of Quarantine
There's no doubt these days we are all looking to get the most out of our trips to the grocery store. And what better way to do this then with some smart meal planning with simple, healthy, easy to prepare recipes. You know the old saying, "I hate when I go to the kitchen for food and all I find are ingredients". Well we have taken the stress out of cooking and shopping with these seven dishes, for seven days using our famous Heavenly Villagio Marzano tomato. This tomato is the one, the only, the original & authentic Mini San Marzano variety. The great thing about Heavenly Villagio Marzano is that it's suitable for dishes that you can enjoy any time of the day because it is so versatile. You can grill it, roast it, saute' it, and of course eat them fresh, just leave a bowl on your counter for handy and healthy snacking. This is your go to tomato for fabulous dishes that will earn you the new title of Top Chef in your household plus we have taken the time to plan all of these dishes while shopping on a budget.
The great thing about meal planning using our Seven Dishes, Seven Days, One Tomato is that it's a quick and easy solution to figuring out what to make and serve now that you and your loved ones are all home for 3 square meals a day. We have put together the whole shopping list for you with all the ingredients you'll need to create seven healthy and hearty dishes. So whether you are making your weekly trip to the store or ordering online you have everything you need in one list. And the best part is when you look this list over you may discover that you already have a fair amount of these items on hand in your kitchen already.
Fabulosity let's get started! Hey parents with kids many of these recipes are super easy and fun for the whole family to get in on the act of cooking together. From the novice to the professional you will see the easy to prepare recipes can happen rather effortlessly. We have put together a recipe collection to plan two breakfast, two lunches, two dinners, and one snack.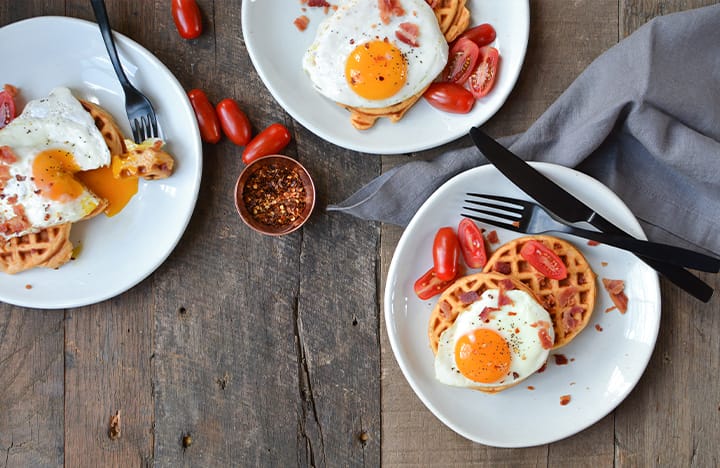 We have two easy breakfast choices for you. First up are our Savory Tomato Infused Waffles. These roasted tomato waffles topped with a fried egg and bacon are a hit with both savory and sweet breakfast eaters alike. If you like things a little sweeter, drizzle a little syrup on top. If you like things a little more savory, skip the syrup altogether! Now what makes these waffles so special is that there are roasted tomatoes (and diced fresh ones) mixed directly in the batter.
Next we have a splendid Roasted Tomato and Shaved Asparagus Frittata. This frittata is one of our favorite ways to make a simple breakfast or better yet brunch. Thinking ahead this frittata is lovely for spring family gatherings, like an Easter brunch or
Mother's Day brunch. And, if you are feeling it you can even serve this dish as a simple dinner, alongside fresh bread and a salad!
For lunch we are going full on plant based with a Tomato and Chickpea Fattoush Nourish Bowl. Do not be intimidated by the name it is easy peezy to prepare. Fattoush is a Lebanese salad that's a mix of herbs, cucumber, tomatoes, and crispy pita pieces, brightened with the flavor of sumac, a traditional spice. This recipe is a nourish bowl inspired by the concept of fattoush; we've added spiced chickpeas to make it more filling. It is delicious and healthy.
Our other lunch option is for an Italian Sausage, Tomato, Tortellini Soup. I love the creamy, slightly tomato flavor of the soup broth made with real, whole ingredients. The water and bone broth can be substituted for typical soup broth. It's the milk and butter that create the perfect creamy base mixed with the sweetness of sautéed Heavenly Villagio Marzano® tomatoes.
It's snack time! Finally! What we all have been waiting for and what better than a Quick & Easy Roasted Tomato Hummus. I like to call it yummish because it is really that good. I promise it will be a huge hit with the whole family – the tomatoes add such a great flavor to a basic hummus recipe and we top it all off with fresh thyme and shaved parmesan cheese; perfect for pairing with veggies that your persnickety eaters may not readily partake in on their own for a total plant-based win.
Dinner time brings two options for savory favorites. First up is a Skillet Chicken with Tomatoes & Green Beans. Enough said! A flavorful dish that is easy to prepare in with only 10 minutes of preparation and 30 minutes to cook. Dust off that cast iron pan and make it happen.
This is a fun spin on a simple pasta dish. Individual Baked Spaghetti's. If ever there was a fun way to engage the kids this is it. You can customize your dish, more sauce, less sauce, more cheese, less cheese anything goes!
All of these dishes take under 40 minutes including prep and cook times. That means more time eating! I do hope you enjoy these 7 Dishes, 7 Days, 1 Tomato using our exclusive Heavenly Villagio Marzano tomato. Let us know which is your favorite.
Print